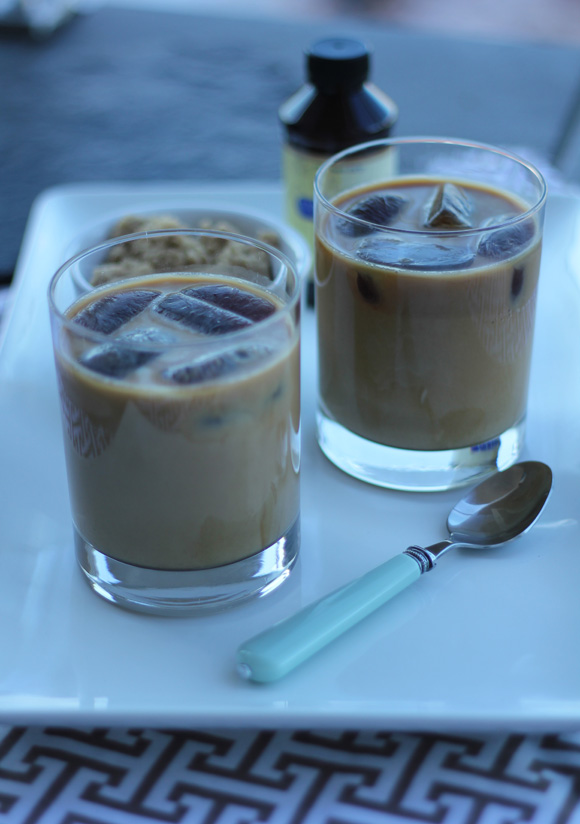 I am an iced coffee fiend in the summer.  I like to make a big pot at the beginning of the week and then enjoy it all week long for breakfast or as an afternoon pick me up. Last week though, I wanted to make a version that was a little more special- something worthy of perhaps a summertime brunch that would pair perfectly with a big bowl of fresh berries and a veggie frittata. I made a big pot of strong coffee, then flavored it with a bit of vanilla extract and brown sugar, for a more caramel flavor. A portion of the coffee got frozen into coffee ice cubes (ideal for making sure your drink stays nice and strong), and the rest was chilled overnight. Then in the morning, I topped each glass with a little almond milk and whole milk- my personal favorite combination. The result was a deeply flavored and very refreshing glass of coffee- perfect for these horrendous 100° temps we've been experiencing.
Have you ever tried flavoring iced coffee? I can't wait to explore different extracts and sugars. Enjoy!
The Ultimate Iced Coffee
Makes 4 large cups
6 cups water
7 T freshly ground coffee
2 tsp vanilla extract
5 tsp brown sugar
regular, almond, or soy milk for topping
The night before you're going to serve the coffee, brew the coffee. While still hot, add in the vanilla extract and brown sugar. Fill an ice cube tray with some of the coffee, and freeze overnight. Chill the remaining coffee. In the morning fill each glass with a few cubes and fill 3/4s of the way with coffee. Top with regular, almond, or soy milk- or enjoy black!