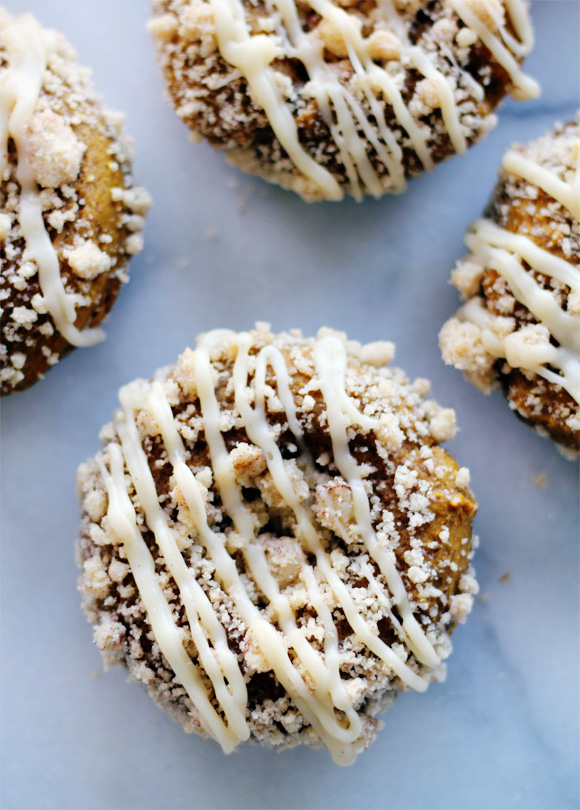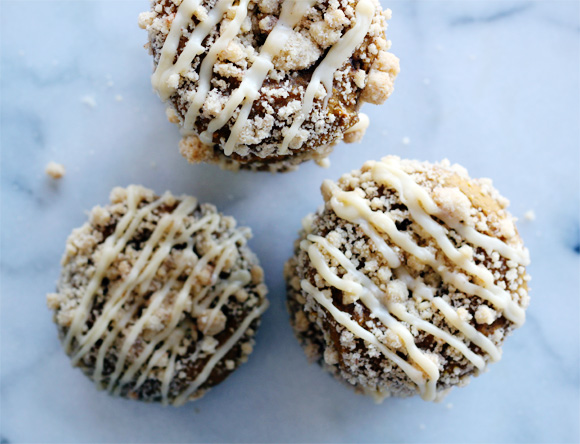 I'm not even sure these donuts need an introduction. I mean…seriously. I kind of killed it on that drizzle, don't you think? All bragging aside, these guys are such beauties. Imagine a pumpkin donut met a pumpkin coffee cake, and they fall hard for each other and then decided to bathe in brown butter drizzle. Yep, that's exactly what happened here. They're the perfect thing to serve on Thanksgiving morning when you're hunkered down in the kitchen and don't want to eat too much pre-feast, but need something to nibble on. I have been working hard to not eat much sugar these days- unless it's really really worth it- and I can tell, these guys are totally worth it. Enjoy!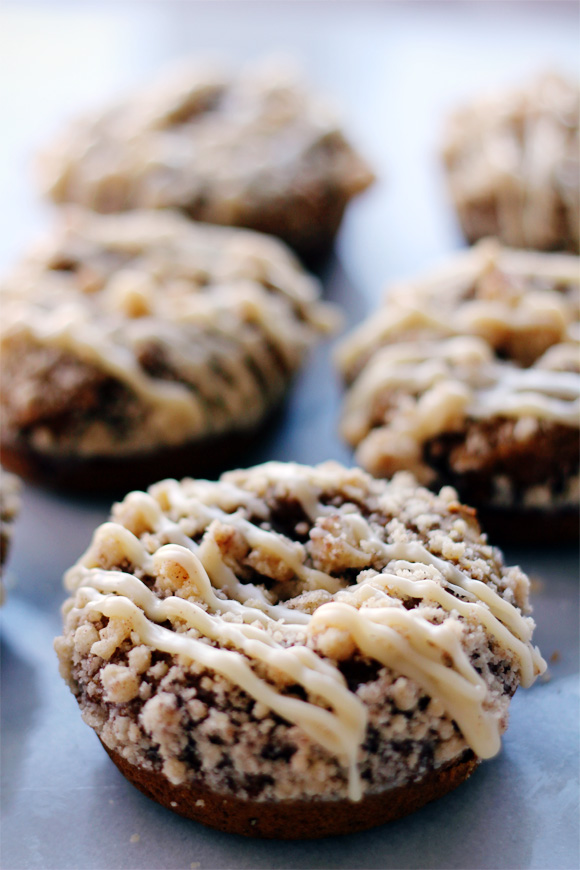 Pumpkin Coffee Cake Donuts with Brown Butter Glaze adapted from Shutterbean
Makes 6
For the donuts:
1 cup all- purpose flour
1/2 teaspoon baking soda
1 teaspoon ground cinnamon
1 teaspoon ground ginger
1/4 teaspoon salt
1 cup pureed pumpkin
1/2 cup packed dark brown sugar
1 egg
1/4 cup vegetable oil
1 teaspoon vanilla extract
For the streusel:
2 T granulated sugar
2 T brown sugar
1/4 salt
1/2 cup of flour
3 T unsalted butter, melted
1/2 tsp cinnamon
For the glaze:
1/3 cup confectioners' sugar
1 teaspoon vanilla extract
2 tablespoons butter
3-4 teaspoons milk
Heat oven to 325°. Coat doughnut pan with non-stick cooking spray (I love using TJ's coconut oil). In a large bowl, whisk flour, baking soda, cinnamon, ginger and salt. In a small bowl, whisk pumpkin, sugar, egg, oil and vanilla until smooth. Add wet mixture to flour mixture; whisk until blended & smooth.
Make the streusel: Mix together all dry ingredients for the streusel. Pour over the butter and stir well to combine. Mixture should be dry and crumbly.
Spoon batter into a large Ziploc bag. Cut of the corner and squeeze batter into prepared doughnut pan about 2/3 full. Sprinkle the tops of the donuts generously with the streusel. Bake for 13-15 minutes, until doughnuts spring back when lightly pressed. Cool in pan on rack 5 minutes, then carefully turn out directly onto rack to cool.
Melt butter in a small saucepan over medium heat for 4-5 minutes, until browned. Pour browned butter into a bowl with confectioner's sugar. Stir in vanilla and milk until frosting reaches a smooth, glazey consistency. Place frosting in a Ziploc bag, cut a very small tip, and drizzle back and forth across the donuts.