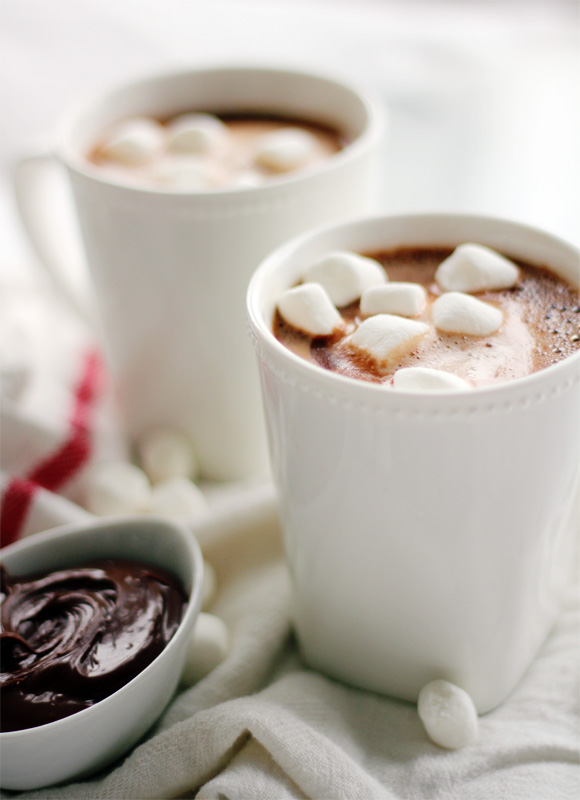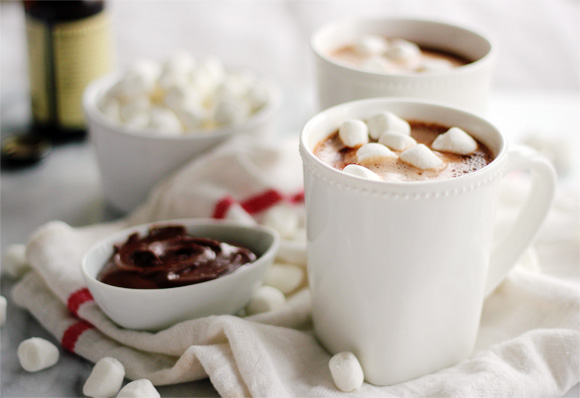 Growing up I had a horrible after school habit of drinking hot chocolate every single day. I say horrible because this "habit" really signified me plowing through containers of Swiss Miss at an extreme rate, due to the fact that I always doubled the recommended serving in relation to water or milk. Side note, I still do this if I come across the stuff. One packet is just not enough! You know I'm right.
But even though Swiss Miss no longer graces our cupboards, I still love having hot chocolate throughout the chilly season. Last weekend, when we were grabbing coffee with friends, there was a Nutella hot chocolate on the menu. I quickly changed up my standard latte order and got the hot chocolate. After one sip I uttered to Brandon, "OMG I'm making this for the blog." Yep. I'm that predictable. So here it is, my own version which contains a mere three ingredients and is so simple to make. I can't believe I didn't think of this sooner!
Serves 2
2 cups of milk (almond or soy will work, too)
1/4 cup of Nutella
1 tsp vanilla extract
Set a saucepan to medium low heat. Add in 1/2 cup of the milk and the Nutella. Whisk until well combined. Add in the remaining milk and heat until piping hot. Serve with marshmallows or straight up. Note: the ratio is 1 cup of milk to 2 tablespoons of Nutella, so if you'd like to make 3 servings it would be 3 cups of milk and 6 tablespoons of Nutella, and so on.