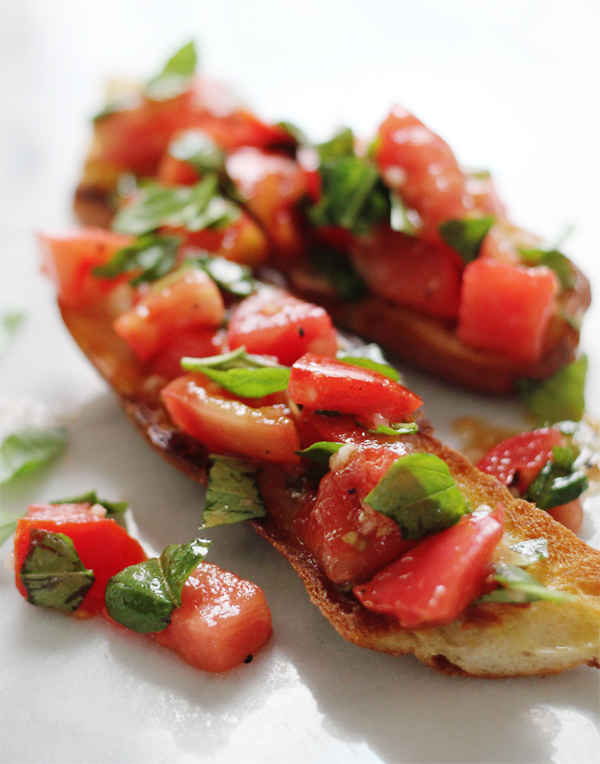 One of my favorite summer pasta recipes of all time is Ina's Linguine with Marinated Tomatoes. In the dregs of March, when I can't bear to even look at another root vegetable, it's this dish I fantasize about. I've essentially taken that same dish and subbed out the pasta for grilled bread. You might be thinking…. "This looks great, Clara, but like, I totally want to add some mozz to that tomato party." I feel you. I get you. But please don't do that. And I say that as a mozzarella/burrata fiend. There's just something about the tomatoes and the way their garlicky marinade soaks into the grilled bread that is, one, to die for, and two, needs to remain untouched. Trust me (and then you can thank me).
And speaking of thank yous, thank you all SO much for your warm welcome back on Monday! It's definitely nice to be missed, and I'm so glad to be back. Let's do this, Wednesday.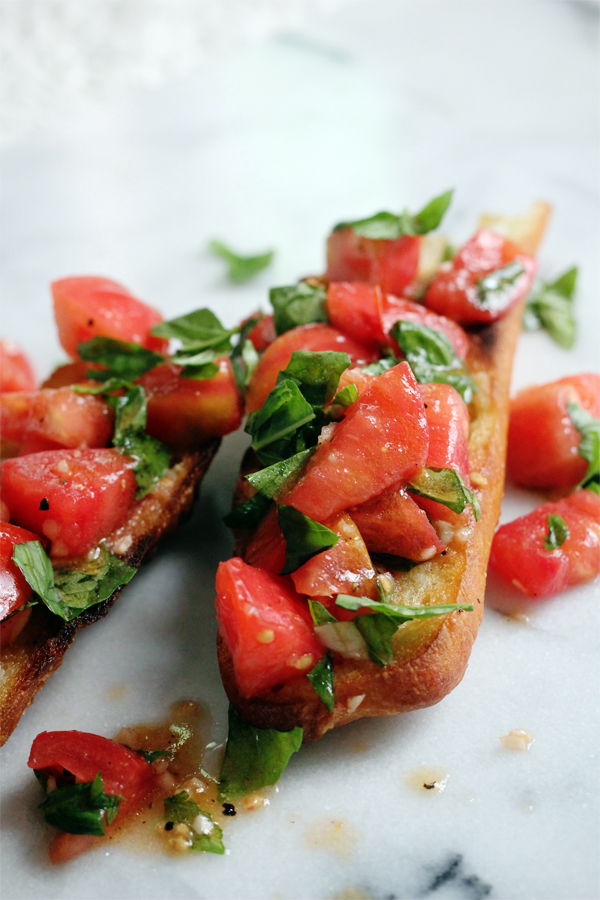 Grilled Baguette with Marinated Tomatoes
2 T minced garlic
4 medium or 3 large heirloom tomatoes (you should have
large bunch of basil, roughly chopped
1/2 cup olive oil
1 tsp salt
1/2 tsp crushed red pepper flakes
1/2 tsp freshly ground pepper
one whole baguette, cut in half and the each half cut lengthwise
Combine the tomatoes, olive oil, basil, salt, red pepper flakes, and ground pepper in a large bowl. Cover with plastic wrap and let marinate for at least 1 hour before serving.
When ready to serve, brush the cut side of the bread generously with olive oil and place on a heated grill, cooking until golden brown and slightly charred (Note: My NYC digs does not allow access to a grill, so I just pan fried the bread cut side down in some olive oil). Cut the grilled bread into smaller pieces and arrange in a single layer on a large tray. Spoon the tomatoes over the bread and serve.