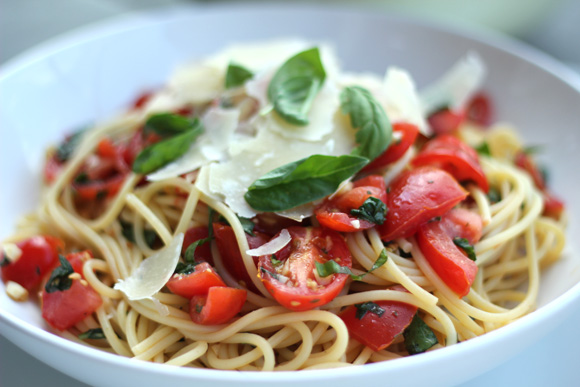 Do you guys follow Joy and Tracey? I read their blogs all the time, faithfully listen to their podcast each week, stalk them on Twitter, and make their recipes often. They are two awesome ladies that I would totally love to be friends with in real life.
In their podcast last week, they were talking about summer shortcuts- specifically shortcuts in the kitchen when you're cooking and entertaining. So this got me thinking about my summer habits, and little things I do to entertain simply and give myself a break. A few things came to mind. For one, watermelon- totally counts as a side dish. Cantaloupe wrapped in proscuitto is pretty much the best (and easiest) appetizer or side dish ever. BLTs make a phenomenal dinner. Get really good quality bacon and bread, use big basil leaves instead of lettuce, and throw in some avocado- your guests will be in heaven.
And then there's this pasta dish- my newest shortcut. It's one of those things that at first glance looks too simple to be that good, but it is so so good. Tomatoes, olive oil, raw garlic, and basil get tossed together to marinate for several hours before cooking the pasta. This breaks down the tomatoes, creating an incredibly fresh and garlicky tomato sauce (with no actual cooking involved). The dish is just as good served hot as it is room temp- perfect for entertaining. This one is truly a summer must!
Do you have summer shortcuts in the kitchen? I need more. Do tell!
Linguine with Marinated Tomatoes slightly adapted from Barefoot Contessa at Home
1 pound linguine (or spaghetti)
4 pints cherry tomatoes, halved
2 T minced garlic
large bunch of basil, roughly chopped
1/2 cup olive oil
1 tsp salt
1/2 tsp crushed red pepper flakes
1/2 tsp freshly ground pepper
parmesan for serving
Combine the cherry tomatoes, olive oil, basil, salt, red pepper flakes, and ground pepper in a large bowl. Cover with plastic wrap and let marinate for at least 4 hours before serving.
Right before your ready to serve the pasta, bring a large pot of salted water to a boil. Cook the pasta for 7-8 minutes until just al denté. Drain the pasta well and add it to the bowl with the cherry tomatoes. Toss well to combine. Serve in shallow bowls with lots of grated parm on top.