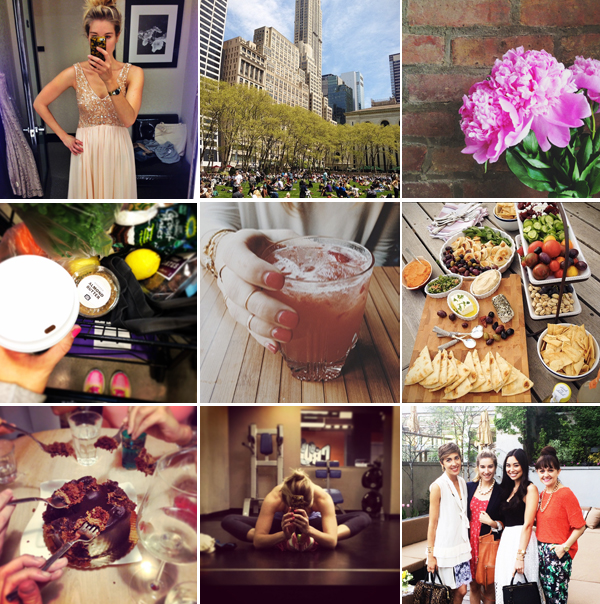 Friends! It's been a while. How are things? Things are good on my end. It felt really invigorating to take a break from this space. The industry is changing (oh yes, that's for sure), and it's got my thinking, dreaming, and scheming on what I blogging will mean for me moving forward. I'm considering new content forms, leaning into more pieces like this, and a mix of other concepts. Super, super exciting stuff. That said, I've been an absolute busy bee on the Insta. Here's a highligt reel below, and you can follow along on the regular right here.
1. Wedding season! It's upon us. We're in the thick of it. And I've got some really amazing gal pals tying the knot in the next few weeks. The dress pictured above will serve as a dress for a black tie wedding, and then my bridesmaid dress for another wedding. So much love for my bestie who let us pick our own dresses!
2. Spring! It's here! And everyone is out and about, sipping and snacking, all over this glorious city. I'm doing my best to soak it all in before it hits 95° and smells like hot garbage 24/7. That's real (NYC) life.
3. My sweet friend bought me flowers this week to celebrate a workshop I completed. Nothing is better than flowers, especially when they're unexpected…. am I right? Note to self: buy more blooms for the fab people in my life.
4. My standard grocery haul as of late. In other news, I'm starting a grocery store catered to 28 year old females that only sells kale, almond butter, Greek yogurt, and rosé. Perhaps some dark chocolate with seas salt, too. #officiallyfoundmypurposeinlife
5. Cocktail time and playing with VSCO CAM. This was taken at Post Office, one of my fave drinks spots in Williamsburg. Get a run down of all my favorite places in that neighborhood here & here!
6. Had so much fun party-ing it up rooftop style with Real Simple Lifestylers the other week. Stay tuned for a little feature on that in the next few weeks.
7. Caaaake. OMG. CAKE. Hitha, Victoria, Grace, Becca, and I did some serious damage to this puppy. Nothing like a stellar night with girlfriends chock full of shrimp tacos, gauc, rosé, and oh yeah, cake.
8. I've been getting my workout on, on the regular, and it feels phenomenal. Question: Any fitness brands you guys are particularly loving right now? I'm feeling a little Lulu'ed out. Would love your recs!
9. And more girl time! This time to celebrate the incredible joint collection from Cuyana and Real Simple. I'm an absolute Cuyana junkie and will definitely be snagging this dress and this necklace from the collection.
Thanks for hanging with me while I was gone. More to come real soon! xx