You guys are in for such a treat today! My friends Lainey and Ben, owners of Bluerock Design, a Boston based graphic design and photography studio, have put together today's Plate to Pixel post. Ben, an actual professional photographer (unlike me!), is walking us through the world of focal length and perspective. Ever wondered what all those numbers on lenses actually mean? I have, and today I'm thrilled I actually get to learn!  And be sure to hop over and check out Lainey and Ben's amazing work..  If you're in the market for graphic design or photography services, I can't recommend them enough. Take it away, Ben!
I was really excited when Clara asked us to contribute to her fantastic blog. I wanted to share a trick with you about how the focal length of your lenses can alter a scene in dramatically different ways simply by moving your feet. The technique I'm sharing is very simple, and with a lens or two in your camera kit you'll be ready to experiment with this effect.
In photography, focal length determines the angle of view for a photo. The wider the angle of view, the more of the world your lens can take in. Wider angle lenses tend to be in the 12-35mm range. Normal lenses—which approximate what the human eye sees — tend to be in the 40-60mm range.  Anything over 70mm qualifies as a telephoto lens. There are also two general types of lenses, prime lens and zoom lens.  A zoom lens can cover a range of focal lengths, 16-35mm, 24-105mm, and 70-200mm are some common examples. A prime lens has one fixed focal length.
The diagram below shows that as the focal length gets longer the field of view becomes smaller.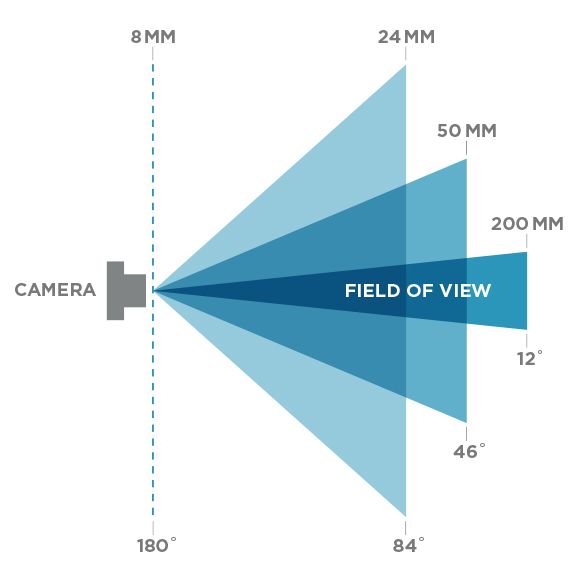 Depending on the focal lengths available on the lenses you own, you can alter the same scene simply by changing the focal length and using your feet to re-frame your image. Wide angle lenses tend to exaggerate perspective and have a lot of depth of field—everything seems in focus even with a large aperture lens. A telephoto lens tends to flatten and compress the space between you and your subject. This is helpful when the situation has a backdrop you don't want to include. When a busy crowd or building ends up distracting the viewers attention away from the subject in the foreground you can use those longer focal lengths, back up until the framing is right for your photo. This frames the foreground the same way and ends up isolating and compressing the subject. It also brings the background closer, flatter, and often more out of focus. If you happen to have a beautiful backdrop or want to push it further away into space, a wider focal length lens would be a good idea.
I photographed a cutting board and some delicious Abbaye de Belloc cheese with some organic grapes, blueberries and garden basil. In the example shot at 24mm you can see the front stoop and lawn from the front yard.
As the focal length increases to 50mm, the background appears to be drawn forward and the house is no longer visible.
By 200mm the soft blue hue of the out-of-focus hydrangea accent the food in the foreground.
The interesting thing about these three images is that the size of the cheese platter remains the same. With long lenses over 70mm, backgrounds tend to appear larger and closer to the foreground. Wider angle lenses push the background further away and include more of it. To achieve these effects I simply backed up and zoomed in!
Another interesting tip about food photography is that by shooting at an angle that simulates the way you would actually be eating the food—as if sitting in front of the food— it appears more natural, and appetizing. I tried it with these photos and they're making me hungry!
I hope these techniques help you find new and creative ways to frame all of your photographs. The equipment used in this example were a Canon EOS 5D Mark III, full-frame DSLR, Canon 24-105mm f4L IS and 70-200mm f4L IS lenses. All images were captured at f4.
Thanks for reading, hope you eat it up!
Ben