I could not be happier it's Friday! This week started out on a sick note and then quickly transitioned to all my energy being focused on catching up on work. That combined with working most of last weekend has left me a little burnt out, so I'm thrilled to kick off my weekend a little early and be taking Friday off! Aaah… feels like such a treat. What makes it even better is that I have something super fun planned. After doing a little lounging and reading this morning I'm headed to a Biz Ladies Lunch at the Design Sponge offices in Brooklyn. I'm so excited to meet Grace, the founder of Design Sponge, as well as a bunch of women that work for themselves in the NYC area. It's a pot luck, so the noodle salad you see pictured here is what I'm bringing with me.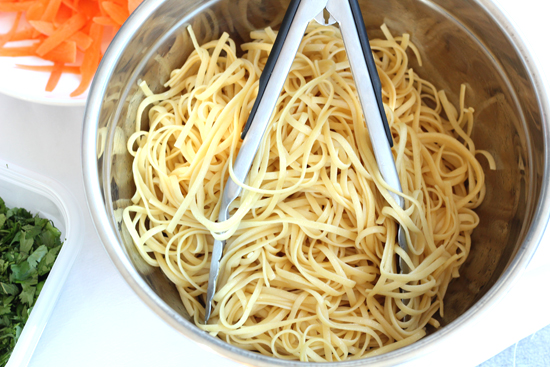 A few things on this salad- yes, there are quite a few ingredients. But I assure you, they are all completely worth it! The flavors in this dish are downright addictive- Brandon and I have literally been eating it in various forms (once as a salad, once as a noodle salad) since Wednesday. It's also ideal for entertaining because all the ingredients can be prepped the day before and then tossed together a half hour or so before serving. It's best served a little cool or at room temp.You must add this dish to your spring/summer repertoire.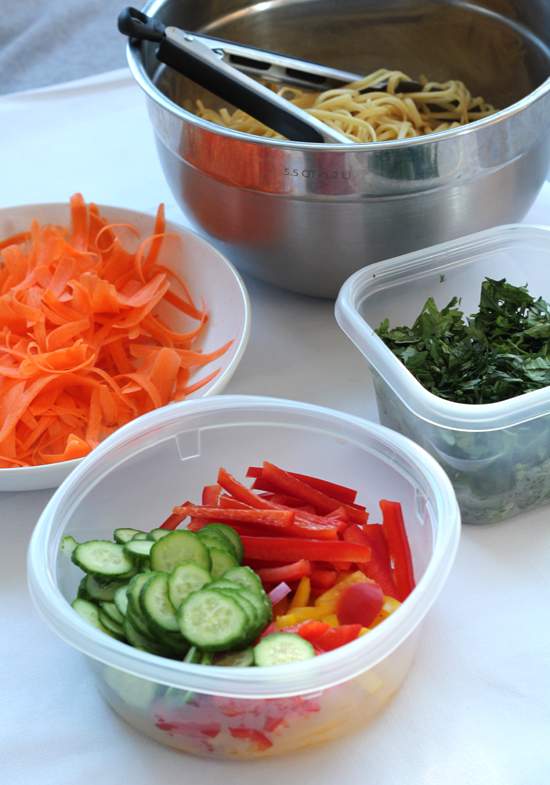 And with that I'm off! I hope you all have a wonderful weekend, with lots of time outside. Oh, and, the blog will be down a bit this weekend as I work on some things on the back end so thanks for your patience. If all goes according to plan I'll have something very exciting to reveal on Monday… see you then!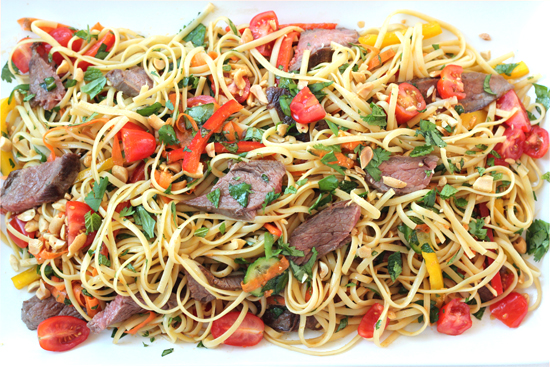 Thai Beef and Noodle Salad inspired by Shutterbean and Camille Styles
Makes 4-5 entrée portions
For the salad (Note: You can swamp out the noodles and serve with two heads of torn romain lettuce, just use a bit less dressing.)
1 lb linguine (or any fine noodle)
1/2 pound skirt steak
big bunches of cilantro, mint, and basil roughly chopped (should equal about 1 1/2 cups)
2 carrots peeled and shaved with a vegetable peeler
1/2 an English cucumber, thinly sliced
1 bell pepper (red, yellow or orange) thinly sliced
1 cup cherry tomatoes cute in half
1/2 cup roughly chopped roasted peanuts
Steak marinade: 2 cloves garlic crush, 1 T fish sauce, 2 T soy sauce, and 1 T sugar
For the dressing:
2 T and 2 tsp fish sauce
2 T and 2 tsp sesame oil
1 T soy sauce
3 tsp Sriracha
4 T brown sugar
4 T peeled, minced fresh ginger
1/2 cup fresh lime juice (about 4 limes)
Marinate the Steak: Place the steak in a large Ziploc freezer bag, add in steak marinade ingredients. Shake bag around and massage steak a bit to mix everything together. Place in fridge for at least 30 minutes prior to cook, but up to 1 day- the longer it marinates, the better. Remove from the fridge 15 minutes before cooking to bring to room temp.
Cook the pasta until al denté (about 8 minutes), drain and toss with a little vegetable oil. Set aside.
Heat a cast iron or heavy bottomed frying pan over medium high heat for 5 minutes. Once heated place the steak in the pan and cook for 4 1/2 minutes on each side. While the steak is cooking, mix together ingredients for the dressing. Once the steak has finished cooking, place it on a plate, cover it in tin foil, and let it rest while you prepare the rest of the salad.
Place the noodles, vegetables, and herbs in a large bowl. After the steak has rested, thinly slice it against the grain and add two thirds of it to the salad. Pour in the dressing and toss well to combine. Place the noodles on a large platter and top with the remaining steak and crushed peanuts.