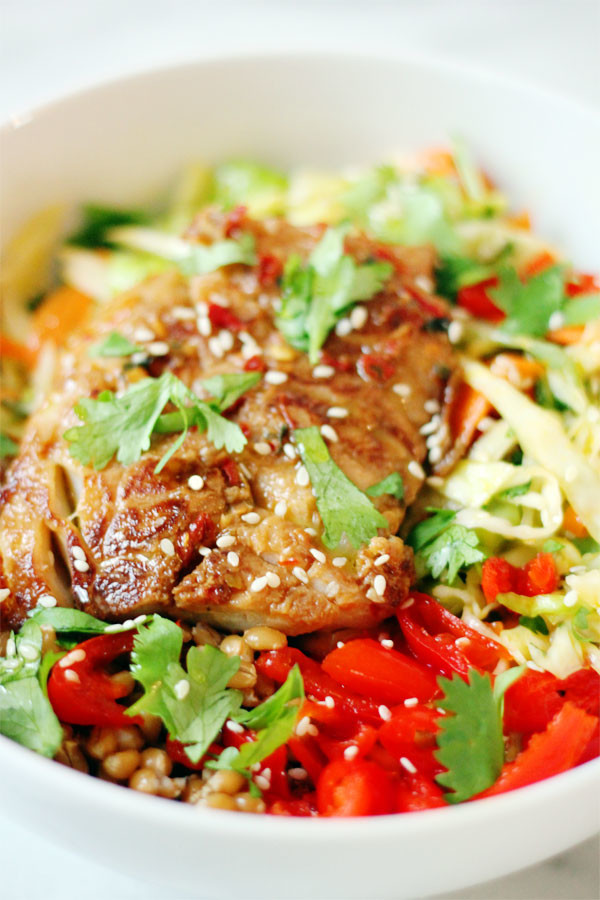 Raise your hand if you're obsessed with grain bowls. Did you raise it? Because I raised both hands.
Here's how my Sundays have gone down for the past few months: go to the farmer's market or Whole Foods and stock up on the vegetables and herbs that look best, pick up whatever protein I'm craving – fish, shrimp, chicken, or sometimes just eggs, make sure I'm stocked up on a grain like wheat berries or quinoa, and finally, ensure I have the proper ingredients for a zingy sauce. Then I come home and transform all those things into a ridiculously delicious grain bowl. And then I eat that bowl aaaallll week long.
I kid you not, this has gone down for MONTHS. I can't stop. It's in part due to Sprouted Kitchen's latest cookbook, Bowl + Spoon. It's a thing of beauty. As someone who really doesn't need any more cookbooks, this one definitely deserves a spot on your bookshelf.
This recipe is a little labor intensive, but it makes a ton of food, which will either make you a dinner party star or leftover queen (or king, of course!). Enjoy! xx Clara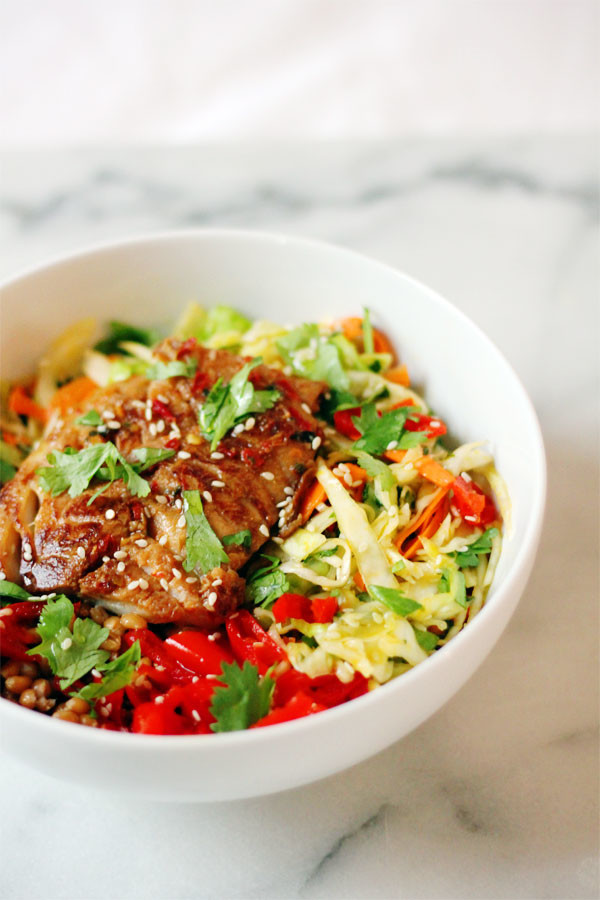 Sweet & Spicy Caramelized Cod Grain Bowls
Serves 4
Cook your grain: I used wheatberries, but quinoa or brown rice would also work very well for this dish.
Prepare 1 cup of wheatberries (cook according to package directions)
For the cod:
2 pounds fresh cod, cut into 4 portions (You can totally swap out the cod for chicken, shrimp, pork, tofu, or another fish)
3 tablespoons soy sauce
1 tablespoon brown sugar
3 tablespoons chili paste
1 1/2 tablespoons apple cider vinegar
3 tablespoons toasted sesame oil
1 tablespoon freshly grated ginger
Whisk all the ingredients for the marinade together. Place in a shallow bowl or dish, or my personal favorite- a big ziploc bag. Drop the fish in, coat well, and marinate for at least 4 hours and up to 24. I do mine the day before and let it sit in the fridge overnight.
Set a heavy bottomed frying pan to medium heat. Place a tablespoon of coconut oil (or vegetable oil) in the pan, and let preheat for 4-5 minutes (if you drop a little water in the pan it should sizzle). Once preheated, place the fish in the pan and cook for 4 minutes on first side. Flip and cook for 2-3 minutes on the second side depending on thickness. The fish should hold together but still be flakey. Remove fom pan and set aside.
Sweet & Spicy Slaw
One small head of cabbage (or half a large head), thinly sliced
2-3 carrots, shaved
1 cup fresh cilantro, roughly chopped (plus more for serving)
3 tablespoon sesame seeds (plus more for serving)
1 cup roughly chopped peppadews for serving (not mixed in)
1/4 cup fish sauce
1/4 cup rice wine vinegar
2 tablespoons sesame oil
juice of 1 lime
1 tablespoon honey
1 serrano chile, finely minced
1 tablespoon grated ginger
2 cloves garlic, finely minced
Whisk together all the ingredients for the sauce in the base of a large bowl. Place the cabbage and carrots in the bowl, and toss very well to coat. Let rest in fridge for at least 4 hours prior to serving. When ready to serve, toss in sesame seeds and cilantro. Reserve peppadews for serving.
To serve: Take four shallow bowls and fill each with grain, then slaw, then top with fish. Garnish each with more cilantro and sesame seeds, and a generous mound of peppadews.