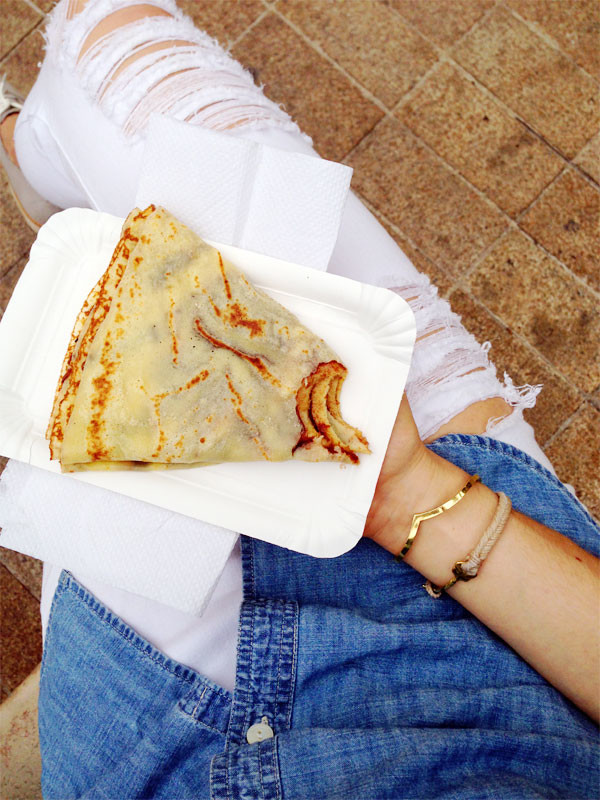 A few months back my friend Emily mentioned she was going to Paris in May. Travel abroad was big on my list for 2015, and even though I'd just gone to Paris last October, I decided it was worth making the trip again. Why? For two main reasons: one, if I had to make a list of people I wanted to travel to Paris with in this lifetime, Emily would be at the top. Two, because can you ever really go to Paris too much? The answer is no. Always no.
I wanted to make the trip a longer one though, a solid nine or ten days, but I didn't want to spend all that time actually in Paris. Living in a big city makes me not want to vacation in a big city. I wanted countryside. Open spaces. A home that was larger than 350 square feet. Counterspace. The ability to DRIVE places. And quiet. I really, really wanted quiet.
Thus I decided to spend the majority of my trip in another part of France; Provence. Another friend was initially going to join me, but had to cancel at the last minute. So two weeks prior to my departure date I settled into the fact that I'd be flying solo for the first five days of my vacation. I was excited.
Last Friday night I got on a plane. I arrived at Charles de Gaulle the next day to a train malfunction (no trains were running into the city). So I split a cab with another disgruntled American and made it to Gare de Lyon with enough time to spare to grab a baby quiche at a bakery nearby. At 3:30 I boarded my train to Avignon. Two and a half hours later I arrived in the French countryside, picked up my rental car, and began the one hour drive to the sweet spot I'd rented in Provence. It's been nothing short of a straight up dream (dream!) since my arrival. I truly needed this vacation.
I'd been plagued with a feeling of homesickness for the last few weeks in New York. The reason as to why I was feeling that way has become much clearer since I've left, but all that aside, I didn't expect to feel so at home here. I've actually felt, in a way, like I've come home through this trip. With a few days of quiet, clarity, journaling, and several glasses of rosé under my belt, I've come to understand why.
Had I traveled with a friend, my focus would have been on our travel experience together. On my own, visiting a new part of France (and Europe in general), I'm more aware of all the past time I've spent here with family, friends, and loved ones. The year my family celebrated Christmas in the south of France. The house we rented in Switzerland when I was just nine years old (likely so memorable because it sat adjacent to a chocolate factory). Time spent along the southern coast of Spain with my ex. All some of the richest memories and happiest times of my life. Because my family, and I subsequently, have always leaned towards renting homes, cars, and so forth when traveling abroad, those memories feel so much clearer and closer, just by being here. It's as if I've come home to them. I feel more at peace in my heart and head than I have in a while. But I suppose that feeling gets at the essence of a true vacation.
I'll leave you with a few pics of my travel thus far. I have been eating like an absolute queen! More to come from Paris. Follow my Instagram and Snapchat (clarapersis) to see more of my travels! xx Clara