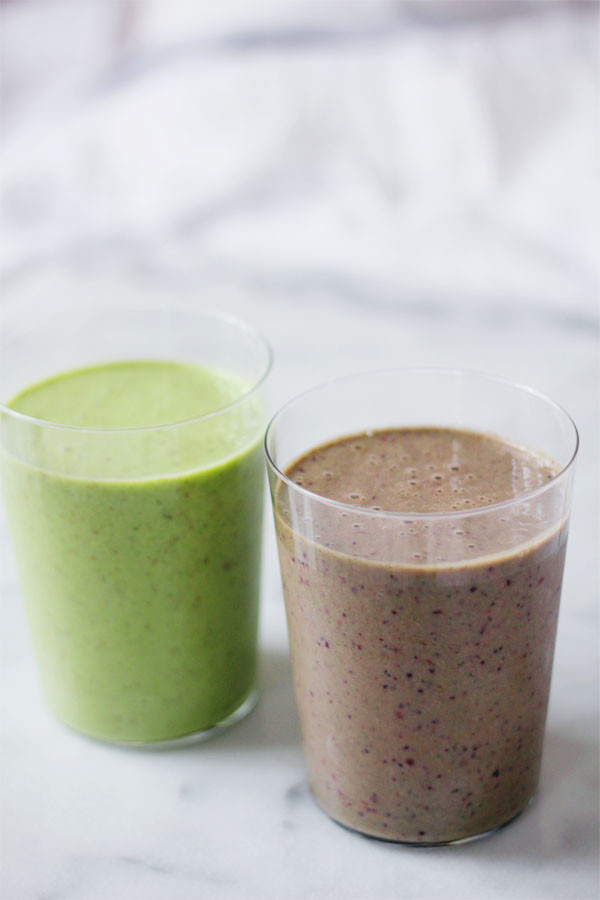 I don't know if it's just spring or something, but at the beginning of last week after months of eggs and avocado on repeat for breakfast, my body was like SMOOTHIES. Feed me SMOOTHIES. I seriously cannot get enough of them right now. The thing I forogt about smoothies (and love most), is that it allows me to sort of ease into my breakfast. I have a few sips after I've made it in the morning, pop it in a to go bottle, throw it in the freezer while I finish getting ready, and then drink the rest when I get to work. I don't have much of an appetite until about 10 a.m., so it's an ideal way to get a little something in my system earlier on to get my metabolism going, and then finish the rest of my breakfast mid-morning.
The other bonus? Veggies. I wasn't great this winter at working veggies into my eggs, but smoothies take so well to dark greens, making it easy to get vegetables in first thing in the morning. I love knowing that before noon I've already fueled my body with several servings!
Below I've shared the two recipes I've had on repeat for the last week. The first has a PB&J vibe from the berries and nut butter, and the second has a more tropical vibe from the mango. You could even swap out the Greek yogurt and use coconut milk. That would be good. They're both technically "green" smoothies because they contain spinach, but the berries overtake the green color in the first one. Each recipe makes one serving, but there was plenty of room in my blender to double the amount, so you can definitely make enough for two people. Get into it! What are you guys putting in your morning smoothie? And, would you like more smoothie recipes in the future?
Here's to a wonderful and fast week. Fast because I leave for France Friday night! Could not be more excited for this vacation. More to come on that. xx Clara
Triple Berry Almond Smoothie
1 1/2 cups spinach, packed
1 cup mixed frozen berries
1 tablespoon almond butter
1 tsp honey (optional)
pinch of salt (yes- rounds out the flavor!)
1 cup almond milk
Place all ingredients in blender and blend until smooth. Enjoy immediately.
Green Mango Smoothie
1 cup spinach, packed
1 cup frozen mango (frozen pineapple also works well)
1/4 cup plain Greek yogurt
1 tablespoon flax seed
1 cup almond milk
1 tsp honey (optional)
Place all ingredients in blender and blend until smooth. Enjoy immediately.