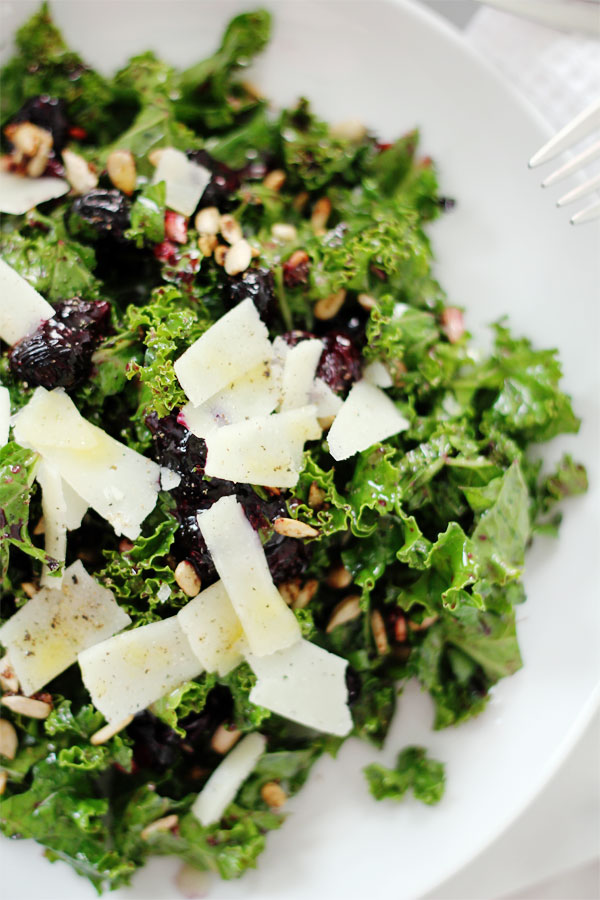 Oh haiiiiii ya'll. Happy Spring! I come bearing salad! A really, really good salad. The concept for this salad was born out of the coziest of cozy gal pal nights with my friend Allison this past Saturday. Rosé, truffle mushroom pizza, and a salad that reinvigorated my love for kale in salad form were involved. I woke up on Sunday and immediately started scheming as to how I could recreate the flavors at home. A few hours later and several bites of taste testing, and voila. Recipe below.
Now. Because it's been a while and it's Monday, I'm jumping back into the swing of things with a few all over the place life updates, random facts, and things currently on my mind:
Friday. Night. Lights. OMG. I'm currently 35 episodes deep (which is somewhere in the middle of season two). I realize I'm literally the last person on earth to get into this show, but boy does it feel good. It's like a warm hug to come home to every night. I thought it would take me forever to get through all 76 episodes buuuut I'm not going to tell you the amount of time it took me to go from 76 to 35.
I recently mastered my quinoa cooking technique, thanks to this brilliant tutorial from Food52. Like the rest of the world, I'm totally grain bowl obsessed. I got an advance copy of Sprouted Kitchen's newest cookbook, Bowl + Spoon, through work and OMG is it filled with the best grain bowls ever. Gonna taste a few and share my favs in the next few weeks.
TRAVEL. I've got major travel on the brain. I have two overseas trip on the horizon and now I just need to pull the trigger and buy those darn fights. It always come back to the flight, amiright? Like once I buy the flight, I know the rest of the trip is good to go. Are you traveling anywhere fun this spring and summer?
Guys. This is a bit of an SOS. I've been a TOTAL delinquent reader as of late. I'm never one to say I can't get into a book, but Iliterallycannotgetintoabook. Should I just read The Girl On The Train? Is that what everyone is reading? Send your best recs!
Kayla Itsines. Do you guys know her? Do you follow Instagram? Admittedly, not really my style but dang can this girl sell herself. Oh and she's like 23. I got a copy of her program through a friend at work and am giving it a trial run today. The short overview? It's a total back to basics style of working out – lots of pushups, squats, circuit rounds, a nice balance between light cardio and high intensity, etc. Permitted I make it through, would you guys be interested in some sort of review?
If you have not set foot in a Banana Republic recently, please do, because they are pretty much killing it. Well, Mara Hoffman, that is. I literally want everything they have for spring and summer.
Aaaaand just to throw a little SELF love your way, this article on how the hell you cook an artichoke is so helpful. It's artichoke season! Get excited and take advantage.
Kale in cocktails. This will be my spring/summer of kale juice in cocktails. I assure you, it does not taste like lawn in a glass. I had one on Friday night that was made with quinoa vodka. Oh, NYC. But it was so darn good. So if you're out and spot one on a menu, you best make it your drink selection.
Now, your turn. Tell me what's up in your world! I'd love to know. Here's to a wonderful week. xx Clara
Roasted Blueberry & Kale Salad
Makes 4 side servings, or 2 main servings
For the salad:
1 bunch curly kale, washed, ribs removed and torn into pieces (you should have about 8 cups)
1 4.4 oz clamshell of blueberrys (the small ones you see in the grocery store)
1/2 cup shaved manchego cheese
flaked sea salt (optional)
olive oil
For the spiced sunflower seeds:
3/4 cup raw sunflower seeds
1 tablespoon sugar
 1 teaspoon salt
1/2 teaspoon cayenne pepper
For the salad dressing:
1/4 cup exta virgin olive oil
1 tablespoon white wine vinegar
1 teaspooon dijon mustard
3/4 teaspoon maple syrup
1/4 teaspoon salt
several grinds fresh black pepper
Preheat your oven to 375°. Place the blueberries in a single layer on a small baking dish. Drizzle with a little olive and toss to coat. Roast for 8-10 minutes until blueberries have softened and slightly burst.
While the blueberries are cooking, heat a nonstick skillet over medium heat and toast the sunflower seeds until just fragrant, about 2-3 minutes. Add the salt, cayenne, and sugar, and toss them around until the sugar is hot enough to stick to the seeds, about 6-8 minutes. (Note: This happened to me quite fast, but the recipe said 6-8 minutes, so watch yours closely). Transfer to a piece of parchment paper and spread out to cool.
Take the torn kale and give it a few rough chops so you have bit size pieces. Place the kale in a large bowl. Drizzle with a little olive oil. Toss together with your hands and then massage the oil into the kale so it soften slightly. Set aside.
To make the salad dressing, whisk together all ingredients but the olive oil until well combined. Then, slowly stream in the olive oil while constantly whisking, so the dressing will emulsify.
Pour dressing over salad and toss well to coat. Next add in about half of the cooked blueberries and toss well to coat. Then add in 2 tablespoons of the spiced sunflower seeds. Taste and season with additional salt and pepper if necessary. Portion salad on to plates. Top each plate with the Manchego cheese, remaining blueberries, and additional sunflower seeds. (Note: If you were serving this for a big group, you could simply toss it all together.) I love to top each salad with a little flaked sea salt and additional fresh pepper. Serve immediately.
Because this is kale, the salad does last for another day or so in the fridge. For an added protein boost, it's great with seared salmon or grilled chicken.