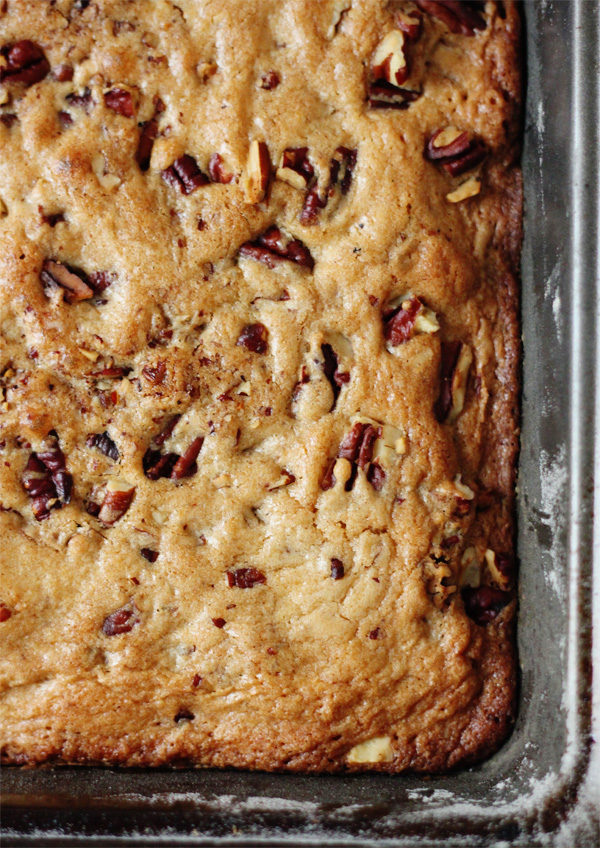 Real talk for a moment? I struggled to hit publish on this post because…
of the quality of the photos. They're not my best. Ever since moving into my new apartment (although I can hardly say new, as it was almost a year ago!), I've struggled with the lighting situation. My old space had massive windows with an expansive space to shoot. Now I'm dealing with an air shaft and very limited hours of actual sunlight. But I do have a Whoel Foods one block away, so no need to feel too sorry for me.
It pains me to put forth work that isn't my best, but at times, we've got to. It's natural to always be seeking that upward trajectory, but having our work plateau or even dip in quality is part of that process, too (got it, Clara?). So I'm doubling down and using this challenge as an opportunity to up my slapped together food photography skills, invest in some new props, and continue to work on that patience thing. Yeah…that thing.
Life lessons aside, these blondies are insane. I had to bring them to work to get them out of my apartment. Definitely make them for a crowd! And better yet, serve them warm and topped with vanilla ice cream. No one will care about the photos then. xx Clara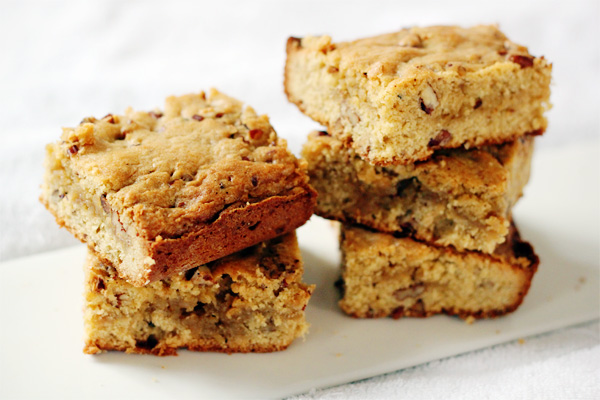 Brown Butter Blondies from Bon Appétit
Brown Butter Mixture:
½

cup

(1 stick) unsalted butter

1

large egg

¾

cup

(packed) light brown sugar

1

teaspoon

vanilla extract

½

teaspoon

kosher salt

⅓

cup

all-purpose flour
Blondie:
1

cup

(2 sticks) unsalted butter, room temperature, plus more

2¼

cups

all-purpose flour, plus more

1½

cups

pecans, coarsely chopped

1½

teaspoons

baking powder

1½

teaspoons

kosher salt

1¾

cups

(packed) light brown sugar

2

large eggs

1

teaspoon

vanilla extract

Vanilla ice cream (for serving)
Cook butter in a medium saucepan over medium heat, stirring often, until butter foams, then browns, 5–8 minutes. Transfer brown butter to a medium bowl; let cool slightly. Add egg, brown sugar, vanilla, and salt and beat until mixture is light and falls back onto itself in a slowly dissolving ribbon, about 3 minutes. Fold in flour.
 Preheat oven to 350°. Butter a 13×9" baking dish and dust with flour. Toast pecans on a rimmed baking sheet, tossing once, until slightly darkened and fragrant, 8–10 minutes. Let cool.
Whisk baking powder, salt, and 2¼ cups flour in a medium bowl. Using an electric mixer on medium-high speed, beat brown sugar and 1 cup butter in a large bowl until light and fluffy, about 5 minutes. Add eggs one at a time, beating between additions; mix until pale and fluffy, about 2 minutes. Mix in vanilla.
Reduce speed to low and mix in dry ingredients. Fold in half of pecans. Scrape two-thirds of batter into prepared baking dish; smooth top, pushing batter to edges. Alternating, dollop brown butter mixture and remaining batter on top. Smooth and sprinkle remaining pecans over.
Bake until blondie is golden brown and firm (a tester will not come out clean), 30–35 minutes (Note: I would check around 27/28 minutes). Let cool before slicing. Serve with ice cream.
Blondies can be made 1 day ahead. Store tightly wrapped at room temperature.