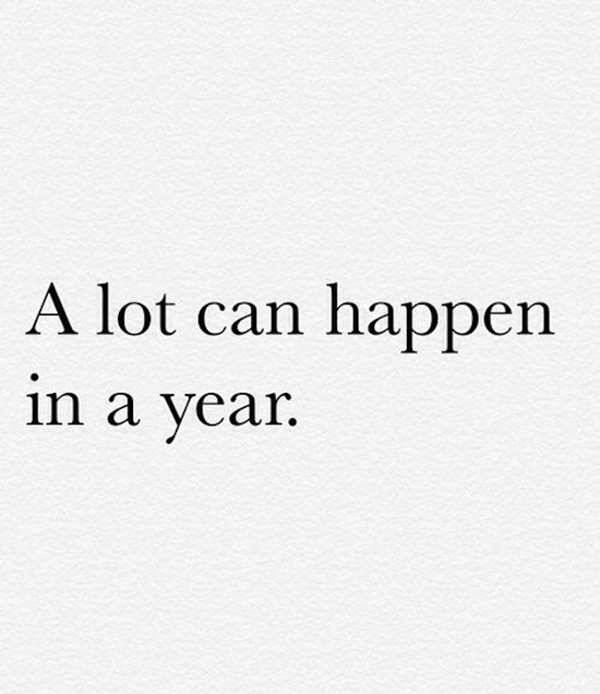 When I put blogging on hold back in August, I thought the next step would be the "goodbye" post. For weeks I felt this pressure to get some sort of explanation up as to why I wasn't blogging anymore. And despite not being much of a procrastinator, the weeks went on and I never wrote it. Then, around late September, it hit me. I shouldn't write the post. I couldn't. In the back of my mind I had this small inkling that some day I would return to this space. And beyond that inkling, I also had a feeling I'd know exactly when that time had arrived. In late November things started to percolate.

2014 was just plain hard. My personal life was turned on its head. I moved out of an apartment and neighborhood I absolutely loved into an apartment and neighborhood I never thought I could love. Working alone and living alone really started to weigh on me. I felt a pull back towards the stability of a corporate job but a huge amount of shame and guilt around pursing that shift because of everything I'd built. I thought people would think I'd given up, that I'd failed. And then on top of that, the pressure to continue producing beautiful content that conveyed this near perfect life (as lifestyle blogs tend to do) – it was all just too much.
There was so much for me to process personally, there simply wasn't room for blogging. I'd even go so far as to say that blogging was detrimental to that effort. I got tired of taking these unplanned breaks where I'd disappear for a week or two, then scurry to pick things back up, full of promises that "I'd be back" or "things would be better." None of that happened, and the whole pattern only resulted in poorly written posts which still attempted to wrap my life up in a perfect little bow (again, as lifestyle blogs tend to do), when really my life was the farthest thing from a pretty package.
So in July, when my "exploration" of transitioning back to a company became a reality, I had to stop. Mentally, I couldn't continue in both spaces. I began interviewing intensely for jobs and wrapping up my freelance work. July and August were the hardest months of this year. Reeling emotionally from all that had happened in the previous 6 months and dealing with so much uncertainty…. I barely had the energy to do anything but work, sleep, and eat. I closed myself off from a lot and essentially went into a survival mode.
As hard as it was, there were great outcomes to that period, the main one being my position at SELF. At the beginning of September, I stepped in as their Social Media Editor. There is much to be said about that shift – my decision to transition back into the corporate environment, the job application process, the specific reasons I selected the magazine, and so on.  I will get to all of that, I promise! I'm really excited to talk about it. But in an effort to keep this post from becoming a novel, I'll save that for another day.
As bleak as this year was, there's been so much growth and progress. It's brought to light one of my favorite books, Elizabeth Lesser's memoir Broken Open. In it, Lesser shares stories of people, including herself, who have been through incredibly trying times – heartbreak, deep loss, disease, and so forth. But what's unique about these stories is that instead of the person being broken down and defeated by their hardship, they're broken open and transformed. It's a beautiful piece, and the learnings could not ring more true for the last 12 months of my life. I've literally been ripped to shreds, and, candidly, continue to be on a daily basis. I've been forced to truly face all those personal demons I'd consistently told myself I'd "solved" years ago. It's the hardest work I've ever done, but I'm so thankful it's happening.
So. Where does that leave us? Well, food is still my heart. It's the thing that heals and calms me. It's where this blog began 4 years ago and where I'd like to return first. I simply can't create the volume of posts I was doing before, so for now it will be once per week (fingers crossed!). Maybe that will change in the future, maybe it won't. I'm working on reveling in the uncertainty of it all.
Huge thanks if you've made it this far, and even more so if you've hung with me these past few months. Aren't you excited for 2015? I so am. Let's do it up right! xoxo Clara
Image Via Unknown