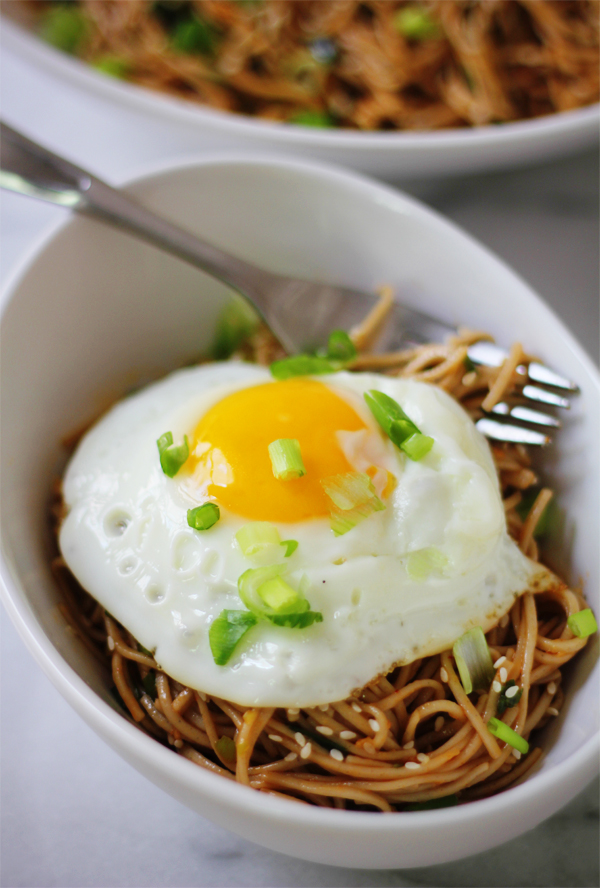 Foooood. A food post! I bet ya'll can barely believe your eyes. It's been a while, that's for sure. But there's no looking back, only forward, so let's dive into this dish. First and foremost, it's not very complicated, which is the general theme of what I've been cooking and eating as of late. I fell in love with soba noodles while traveling in Japan a few years ago, and yet up until earlier this week had never made them at home. Shameful! They cook up so quickly and beautifully sop up a soy based sauce.  I created a simple scallion ginger sauce, pulling together items I had on hand in the pantry, and then topped it all with a fried egg. When topping Asian inspired dishes with eggs, I fry them in canola oil over a low flame, and then place a lid over the pan towards the end to fully cook the egg while keeping the yolk yellow (as opposed to flipping it).
A friend commented on my Instagram feed earlier this week, remarking that it looked like I'd been having a lot of fun. It honestly couldn't be more true. I've been extremely focused on having a lot of fun, which has candidly meant time away from this space. I'm working to strike a balance, but right now my personal life has taken priority. After all, it's summer! SUMMER. Doesn't it feel so good?
 Ginger Scallion Soba Noodles inspired by simply reem
9 oz soba noodles
2 tablespoons canola oil
1 tablespoon sesame oil
1 1/2 cup finely chopped scallions
1 1/2 tablespoons grated ginger
2 tablespoons soy sauce
3 tablespoons rice wine vinegar
2 tablespoons honey
1 1/2 tsp harissa (or chile oil)
1 tablespoons sesame seeds for sauce, 1 tablespoon for garnish
4 eggs
canola or sesame oil for frying the eggs
Stir together all ingredients for sauce and let rest in fridge for at least 15 minutes.
Cook the soba noodles according to package directions. Rinse immediately in cold water. Top with the sauce and toss well to coat.
Divide the noodles into four bowls. Fry eggs in canola oil and place on top of noodles in each bowl. Top with additional sesame seeds, scallions, and  a bit of salt. Serve immediately.