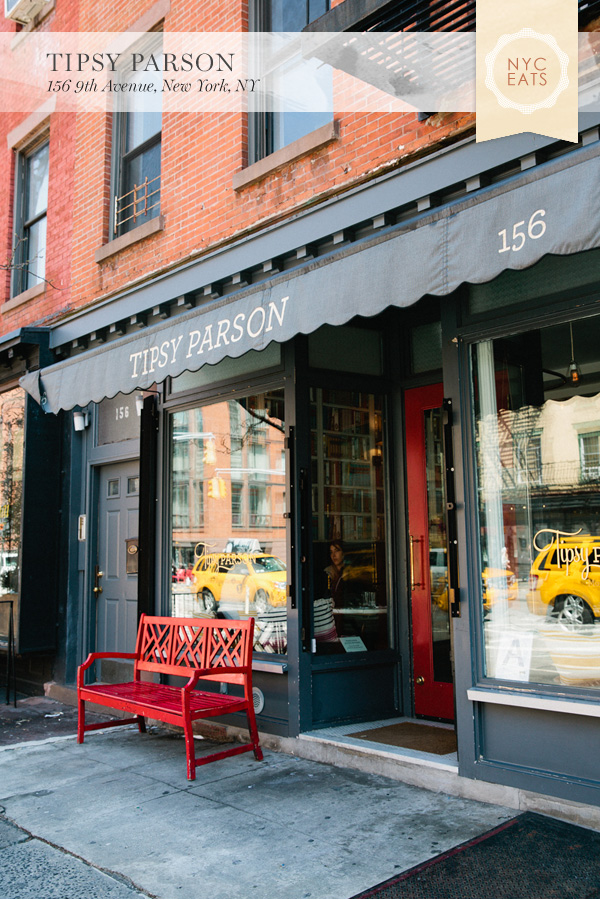 It's really hard not to play favorites with these NYC Eats posts, but this most recent shoot really took the cake- literally and figuratively. Last week, on one of these glorious sunshine filled days we've been having in NYC, Sas and I headed to the Tipsy Parson, a restaurant that serves farm and ocean to table oriented southern cuisine in the West Chelsea neighborhood of Manhattan. With word that Ty-Lor Boring had stepped in as executive chef just a few months prior, we were dying to see what his spin on traditional southern food would look like. In short, we were in for a massive treat.
We began with Tipsy's Simple Green Salad, baby lettuces with soft herbs, apple cider pickled carrots and roasted garlic oil. A sucker for presentation, I'd never seen salad ingredients so artfully displayed! Stunning, right? It was the perfect way to kick off our meal.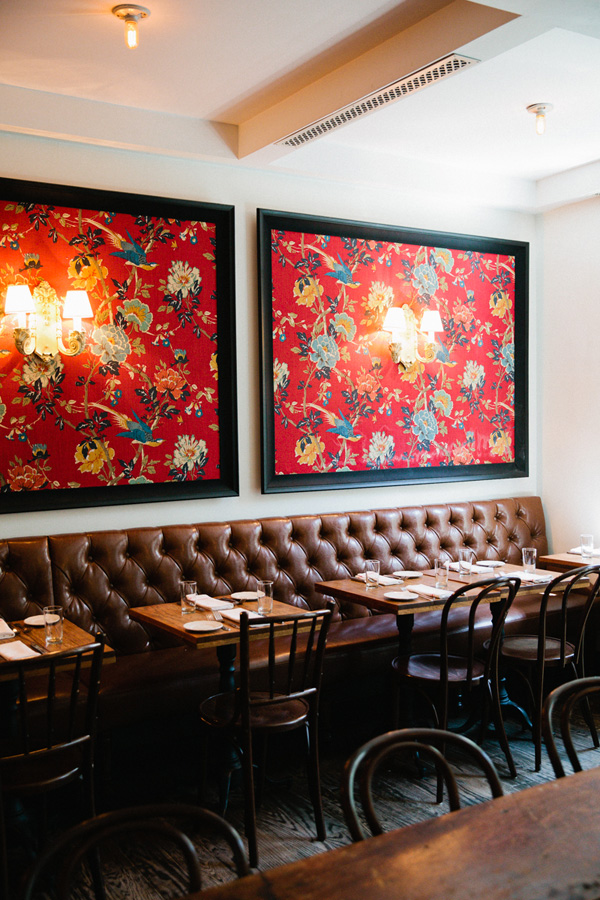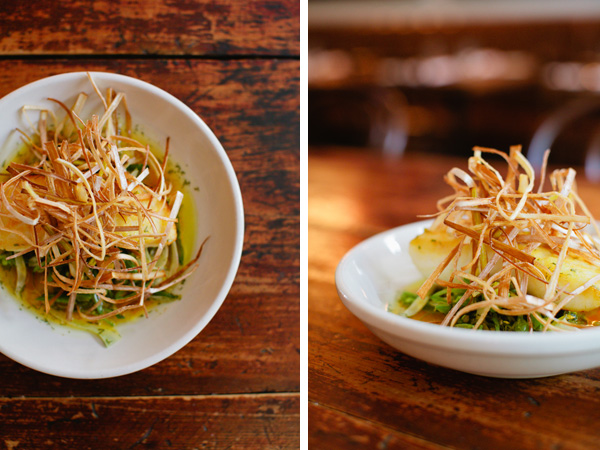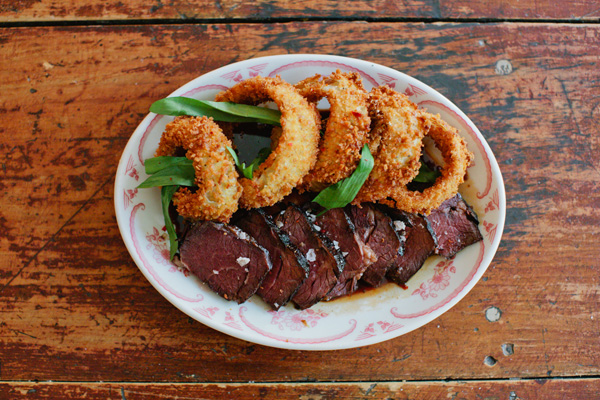 Things got REAL for the main course, where Ty-Lor wowed us with the his halibut and short rib dishes. First of the season halibut is served over fennel and snow peas tossed with a bread and butter pickle vinaigrette and topped with leak frites. That vinaigrette? Life changing. We were sure nothing could top that experience, but when a 14 day in house dry aged prime short rib that had been cooked for 72 hours was placed before us, we had a feeling our life was about to be changed once again. Topped with a smoked cheerwine and served along side quite literally the best onion rings I ever had, we were audibly swooning. Emphasis on the word audible.
Somewhere between the main courses we sampled Tipsy's glorious fried pickles dunked in a house made buttermilk ranch. The restaurant's bar area and front window tables are the perfect spot for a early evening cocktail and light bite. We recommend you pair the Porch Swing Swizzle with those fried pickles. And then when all is said and done you round out the meal with their Black & White Chocolate Rum Cake, made with Rhum J.M. Gold and rich Guittard chocolate. As someone who doesn't usually order the chocolate cake, I was floored.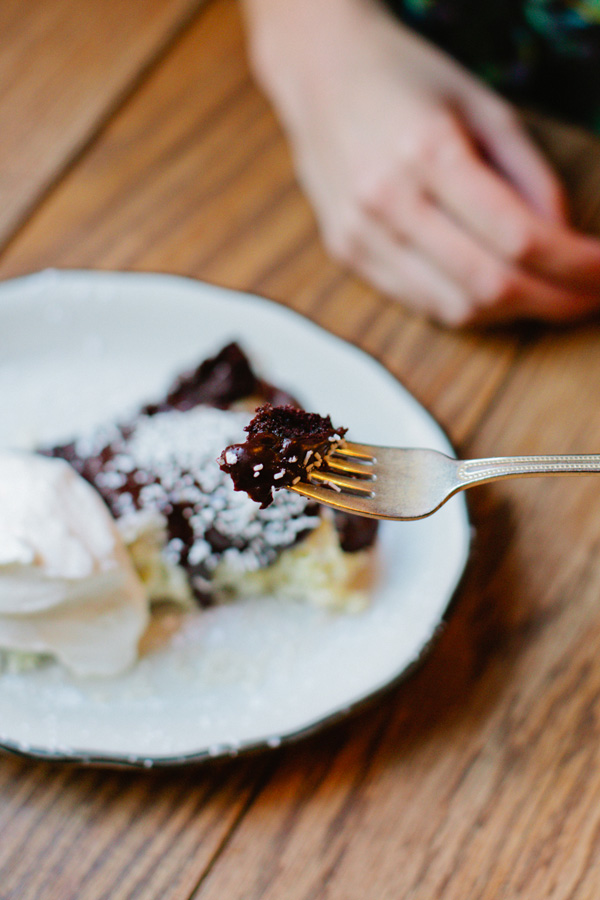 A master at creating simple, stunning dishes with a raw and sensual edge, Ty-Lor has taken traditional southern fare and turned it slightly on its head. He's taken 22 years of travel (spanning 20 countries and four continents no less), a rich culinary education including stints in Seattle and Paris, and experiences working side by side masters chefs from Michelin star rated restaurants in Denmark to street stalls in Thailand, to meld a cuisine that is truly his own. If you're in the NYC area, Tipsy is an absolute must! Be sure to arrive hungry, as you definitely won't want to limit your menu choices for this culinary experience.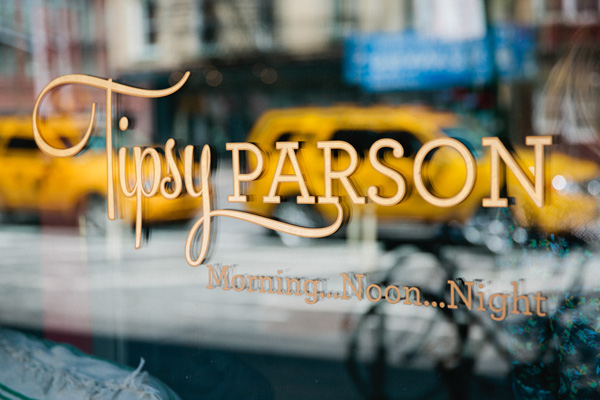 All images captured by Sasithon Photography. Huge thanks to Ty-Lor and Julie of the Tipsy Parson for allowing us to capture all the beauty of their food and restaurant! Check out Tipsy Parson on their website, Twitter, and Facebook pages.