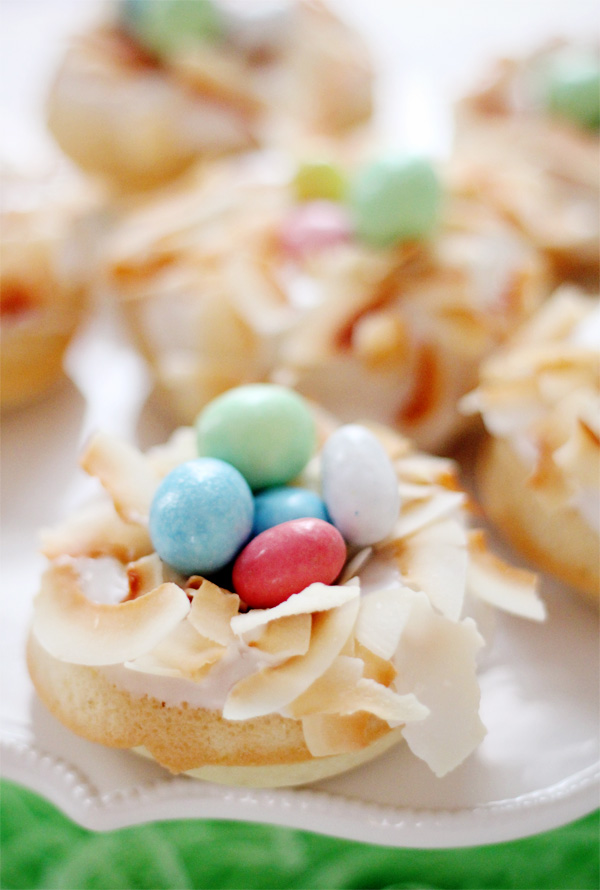 Something wonderful happened this weekend!  One of my best friends had a baby. I got the text on Saturday afternoon, notifying me that she was headed to the hospital. I immediately burst into tears. Tears of joy, but tears nonetheless. It was a kind of excitement I've never experienced before, she being the first of my close gal pals to have a little one. It put me on an absolute high for the rest of the weekend. I can't wait to meet the little man, and for the rest of my friends to keep having sweet babes! Isn't it the best?
On a completely different but still sweet note, these donuts. These would be show donuts. And by that I mean, they're a little over the top. Even this sugar addict needs to pump the breaks on a candy filled frosted donut. But here's the thing- for your Easter brunch, you serve the adults the donuts, and the kidlets the candy!  Two birds with one stone. The donuts on their own are actually only mildly sweet, and the lemon keeps them bright and light. Donuts and babies- made for a pretty good weekend. Here's to a great week!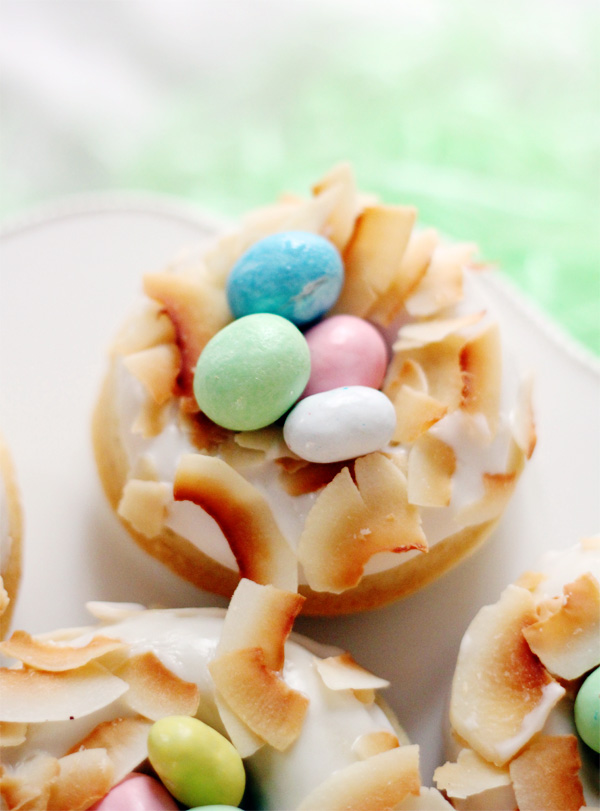 Lemon Laced Coconut Milk Donuts adapted from Taste and Tell
Makes 12 donuts
2 cups all purpose flour
3/4 cup sugar
2 tsp baking soda
1 tsp salt
2 eggs lightly beaten
3/4 cup coconut milk
2 tablespoons butter, melted
1/4 cup vegetable oil
zest of 1 lemon
1 cup flaked unsweetened coconut
For the icing:
1 cup powdered sugar
1 tablespoon lemon juice
2 tablespoons coconut milk
pinch of salt
Preheat the oven to 325°. Spray a donut pan with cooking spray (I love the coconut spray from Trader Joe's).
In a large bowl, combine the flour, sugar, baking powder and salt. In another bowl, combine the coconut milk, eggs, coconut extract, butter and oil. Stir the dry ingredients into the wet ingredients, mixing just until combined.
Transfer the batter to a large zip top bag and cut off one corner. Pipe the batter into the donut pan, filling each about 2/3 full.
Bake the donuts for about 10 minutes, until a toothpick inserted in the center comes out clean. Remove to a wire rack to cool. While the donuts cool, make the icing and toast the coconut. Mix together the powdered sugar, lemon juice, coconut milk, and salt, working it until it's thick and glossy. To toast the coconut, place the flakes in a shallow baking dish at 325°. Bake for 5-8 minutes, stirring after 5 minutes and cooking until golden brown.
Dip one side of the donuts in the frosting, creating a generous coat. Follow by a light dip in the toasted coconut flakes. Repeat for remaining donuts. Serve immediately or store in an air tight container at room temperature. for up to three days.