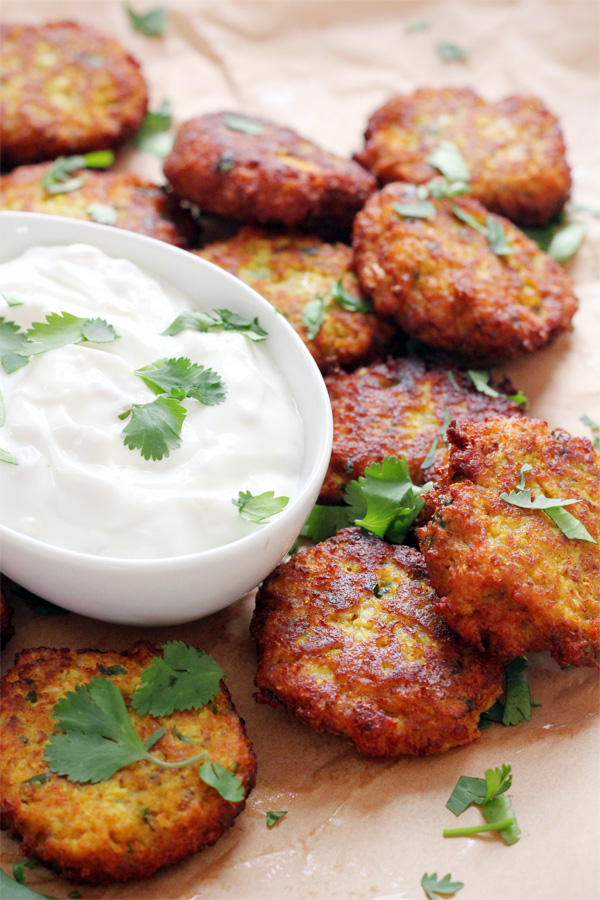 My new apartment is lovely, but I have a confession. There is zero (and I mean zero), counter space, you guys. This is not unusual if you're familiar with tiny NYC apartments. It's not uncommon to have one wall that consists of a stove, sink, and fridge, with the only "counter" surrounding the sink. So cooking has been an interested mix of placing my cutting board on the stove, then moving it when I have to turn the stove on and so forth. I'm working on getting some sort of butcher block, but it takes so much time to decorate! Major life problems over here.
Despite the conditions I managed to cook something more than eggs this weekend, and kicked things off with a  fritter loaded with caulifower. According to Bethenny Frankel (who was on my plane back from Mexico!), cauliflower is the new kale, so we best get on board. This is totally one of those recipes that feels rich and satisfying but is still packed with veggies. What I might like even more? The shallot yogurt sauce that goes with these babies. Downright addictive.
Here's to a great week!
Curried Cauliflower Fritters slightly adapted from Pancakes by Adrianna Adarme
1 head cauliflower cut into florets
2 tablespoons olive oil
salt
1/2 cup dry bread crumbs
2 large eggs
2 tabelspoons all purpose flour
2 tablespoons Greek yogurt
1 garlic clove, grated
1 1/2 tsp curry powder
1 tsp ground cumin
1/2 tsp tumeric
1/4 tsp cinnamon
handful of cilantro, chopped
vegetable oil for frying
For the sauce:
1/2 cup plus 1 tablespoon Greek yogurt
1 shallot, minced
2 tsp lemon juice
1/4 tsp salt
Preheat oven to 400°. Place the cauliflower on a line baking sheet and drizzle with olive oil. Season the cauliflower with 1 teaspoon of salt and transfer to the oven for 20 minutes, turning once to ensure even roasting.
Make the sauce: Coat a small saucepan with olive oil and set to medium low heat. Add in the shallots and sauté until soft and transluscent (6-8 minutes). Place the cooked shallots, yogurt, lemon juice, and salt in a bowl and stir to combine. Set you in fridge to chill while you prepare the fritters.
Transfer the cauliflower to a food processor and pulse until the mixture is coarsely ground.
Place the cauliflower in a large bowl and add bread crumbs, eggs, flour, yogurt, spices, and 1/4 tsp salt. Mix thoroughly until combined. Cover the bowl with plastic wrap and transfer to the refrigerator to chill for 3 hours.
Scoop 2 tablespoons of the cauliflower mixture into the palm of your hand. Form into a patty 3 inches in diameter and 3/4 inch thick. Continue to make patties with the remaining mixture.
Place a skillet over medium high heat, and pour in vegetable oil until it reaches 1/2 inch up the sides. Once the oil is hot, carefully add the fritters, being sure not to overcrowd the pan. Cook for 2-3 minutes until golden brown. Gently flip and cook on the opposite side for a minute or two. Transfer to paper towels to drain and then plac then in a preheated 200° oven to keep warm. Repeat the process to cook the remaining fritters.