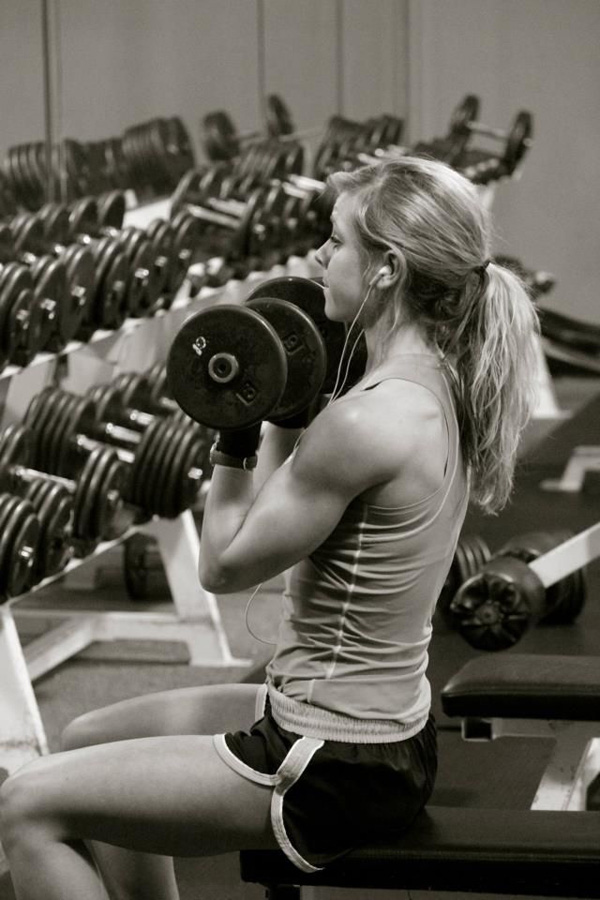 The title of this post could signify a whole host of things for me right now, but I actually mean it in the most literal sense. As in, literally regaining my physical strength. I don't dabble too much in fitness around these parts because I'm far from knowledgeable on the topic. But it's a key part of my life (despite having been the least athletically inclined adolescent), and it's played a major role when it comes to weathering the ups and downs of day to day life lately.
I was anti-sports from a pretty young age. It probably had something to do with being so shy, but gym class and organized sports were kind of my worst nightmare. I'm also the absolute worst person to attend a sporting event with. Unless you feed me endless hot dogs and pretzels, then I'll keep to myself and stop complaining. I wasn't a complete couch potato, though. I danced. A lot. My poor mother spent most of my childhood shuttling me to and from tap and ballet lessons for close to 10 years. So in that way I always enjoyed being physically active, but the traditional forms of exercise felt so foreign to me. That yearly physical fitness test was my biggest fear. Having to run around with all of your classmates and then be scored? Horrible!!
But the worst part was that the whole format of typical "gym class" lead me to believe for much of my childhood and teen years, that I wasn't naturally skilled when it came to exercise. I forced myself through and then gleefully made it to college where no one could ever make me take a gym class again. Thank God! And then it was freshman year, and like most new college students, the pounds began to pile on. Generous daily portions of ice cream and Tortilla chips (hint of lime, anyone?) did not help. So I went to the gym for the sole purpose of not having to buy an entirely new wardrobe. But not really knowing what to do, I became your typical elliptical and five pound weight girl. An endless amount of time on the elliptical at a pace where I rarely broke a sweat, and brief period of "weight lifting" with little weights, perhaps a crunch or two, and I was out. My methods did not aid me in avoiding that entirely new wardrobe….
Flash forward a few years later. A combo of studying abroad and getting off of the school meal plan put an end to the constant junk food I was consuming, and helped return my body to its more natural state.   Once I left school and started working, the sitting at a desk all day situation had me really craving exercise. For the first time ever, I did some research. I despised cardio but knew I needed to do at least a little bit of it, so I was thrilled when I discovered HIIT (high intensity interval training). Instead of jogging on the treadmill for an hour, I could rev up my heart rate in a mere 20/25 minutes through a combo of sprinting and walking. One minute sprinting, one minute power walking. I had to switch so quickly between the two, I never had time to think about how much time I had left! And the back and forth really got my heart rate pumping, turning me into a perfectly sweaty mess.
It was around this time that I also got into weight training. I don't know what sparked the interest, but I was really jazzed by the idea of being able to lift heavier weights and  actually toning my body. I did some research and started a circuit of strength exercises at the gym. I got a bit stronger and began trying heavier weights, but I definitely wasn't pushing myself enough. I carried on in that way for the next several years, gaining some strength but not really seeing too much of a change in my body.
That brings us to 2012. I was at the gym, doing some basic tricep exercises, and one of the trainers stopped me.  She informed I was positioning my arms completely incorrectly, making the exercise pretty ineffective. What a wake up call! I booked sessions with a trainer that day. And for three months I was pushed farther physically than ever before. I also had never felt better  in my entire life. That exercise endorphin high? I could NOT get enough. Over those three months I learned the best way to work my legs, arms, back (never did that before), and core. I saw changes in my body almost immediately. The day I was able to do bicep curls with 20 pounds in each hand was mind blowing! My exercise levels have ebbed and flowed since then (with some definite inactive periods), but whenever I get back into now, my body responds much more quickly. I think it's a combination of having sort of this base strength, and then really understanding how to push myself physically to get back into shape.
I realize trainers are an investment but this was seriously some of the best money I've ever spent. I haven't done another session since that summer. I may down the road, but for now I'm seeing results on my own. And given how sore I've been lately, know I'm definitely pushing myself.
So what do my workouts look like? When I'm on my best behavior, it goes like this: 2 days a week I'll do an HIIT workout (20 minutes) on the treadmill, followed by 35-40 minutes of lifting. One day I'll focus on upper body and core, the second day on lower body and core. Another day I'll do 45-60 minutes of just lifting/toning exercises, with a focus on back, core, and overall body strength. The fourth day I'll try to do something like a Soul Cycle class to cover cardio in a fun way, or if I'm feeling like I need to stretch myself out, an at home yoga DVD. For me, four days a week is what works. Between that and running all over the city, it feels very active.
I have to credit a few sources of online inspiration. Jen of Peanut Butter Runner is one of my absolute favorite fitness bloggers. I loved her recent post on why women should be lifting weights. Kris of Young Married Chic also has great advice on getting into lifting and structuring your time at the gym. And Grace has been providing some amazing feedback on NYC based fitness classes as of late.
Aside from the physical side of things, exercise is almost more important for my mental health. It's the only time in my day where I can complete disconnect from everything happening around me. The anxiety subsides and I'm able to really get out of my own head. It also leaves me feeling powerful and strong- physically, mentally, and emotionally. It's my ultimate me time.
Props if you've made it this far. My fitness journey did turn into a bit of a novel :). Thanks so much for letting me share it. As I said, I'm by no means an expert, but if you're looking for some guidance on breaking into strength training and kissing the elliptical good bye, feel free to reach out! And I'd love to know, are you guys into strength training? Is exercise your me time? I'd love to hear.