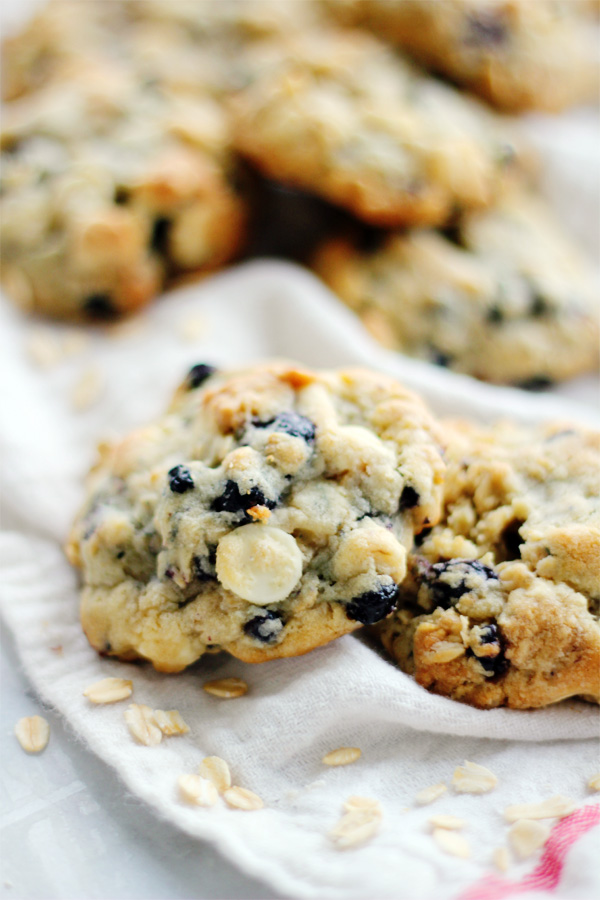 There are times when I really wish ya'll could reach through the screen and taste what I'm dishing out, because sometimes a picture just doesn't do the recipe justice. That is so the case with these cookies. Though merely a basic twist on your traditional oatmeal raisin cookie, trust me when I say these babies are insanely good. Almost inexplicably good. There's something about the white chocolate against the dried blueberries, mixed in with the chewy oats, that make them utterly irresistable. A friend tasted them and stated after one bite, "Uummm…. these are absurdly good," which  in my mind was the best description. There really is an unexpected goodness to them!
If you have the day off for Presiden't Day, first off- I'm jealous, but more importantly, you should totally whip up these cookes. They're the perfect antidote to the 16 snows storms we've had on the East Coast this year. Aaaand if you haven't had to suffer through these snow storms, please refrain from telling me. Ha! But seriously, I'm not kidding.
Here's to a great week!
White Chocolate Chip & Blueberry Oatmeal Cookies
2 1/4 cups all purpose flour
1 tsp salt
1 tsp baking soda
2 sticks unsalted butter, softened
1 cup light brown sugar
1/2 cup granulated sugar
2 large eggs
1 tsp vanilla extract
12 oz white chocolate chips ( I love this brand)
8 oz dried blueberries (they sell a bag this size at Trader Joe's)
2 cups old fashion oats (not quick cooking)
Whisk together your flour, salt, and baking soda and set aside.
Place the butter and sugars in the bowl of a stand mixer and beat on medium high until light and fluffy (about 2-3 minutes). Scrape down the sides of the bowl. Add in the eggs and vanilla and beat until just combined. Add in the flour in two additions, beating until just combined.  Remove bowl from stand mixer and add in white chocolate chips, blueberries, and oats, and stir until just combined.(If it's too hard to stir you can beat on the lowest speed for a few seconds.)
Place the dough in the fridge for a few hours (or overnight) to chill. When you're ready to bake your cookies, preheat your oven to 350°. Line two baking sheets with parchment paper. Scoop about two heaping tablespoons worth of dough into a ball and place on baking sheet. Bake for 9-11 minutes until the edges of the cookie are just golden brown. They should look a little raw. Remove from oven and let rest on baking sheet for another 5 minutes. Move to cooling rack and repeat process.
Serve immediately or store in an air tight container at room temperature for up to one week.