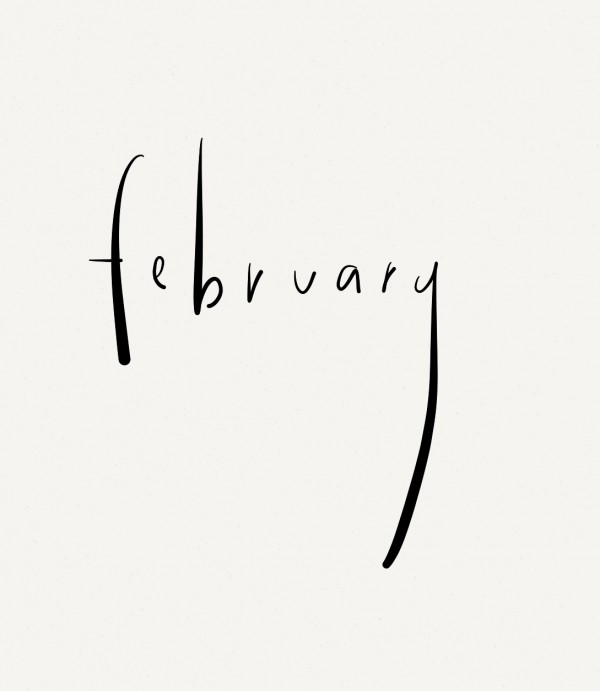 Mmmm a new month. February somehow feels light to me. The beginning of the year can be such a rush, with so many expectations. In February, I feel like I can breathe a bit. Things feel easier, the year starts to fall into place. It's not that life has been particularly peaceful lately (au contraire), things are simply starting to make a bit more sense. This week came with a bit of mental clarity on what I want in my life here and now. That feeling probably has something to do with the fact that I finally started sweatin' it up again. Some recent bouts of insomnia has made it physically impossible  to exercise, let alone get through the day, but I'm (thank goodness!) finally sleeping better again. I also just discovered Tone It Up, and it's totally reinvigorated my workout routine! Do you guys use it? I'm probably the last person on the planet to discover the site, but I'm obsessed with their videos. They're super short, making it easy to squeeze in a quick toning session or workout for a while and not get bored. Plus their show on Bravo is pretty fun (yes I'm watching that).
That will be pretty much be the theme of my weekend, multiple sweat sessions and a whole lot of self care. Here are a few fun links to last you through yours….. cheers! xx
Make cookie dough Oreos at home.
Demystifying the waterfall braid technique.
Crazy cool animal photography, five years in the making.
What we'll all be eating in 2014, per Kimberly Snyder.
Leandra Medine , the Man Repeller, shares her favorite New York places.
Clementine Daily on 'How to Stop Comparing Yourself to Others'
How neat are these 1860s-style tintype portraits of Sundance attendees?
This little piece from the New Yorker about email sign-offs.
Can't wait to check out this darling Brooklyn home goods shop.
Which "Mean Girls" Character Are You?
Lastly, February is Pancake Month! If you can't make it into NYC's Clinton St. Baking Company, how about taking some inspiration from their inventive stack list…
Image Source: M-Yths