The holidays literally feel like a decade ago. As I look back on January, I can hardly believe how much was squeezed into this past month. Do you feel the same way?
So because of that this insanely delicious coffee cake got a little lost in the mix. Every year I make my family coffee cake for Christmas morning. I tend to fuss around with new recipes, so some years the cakes are better than others. But this year, oh my goodness, this cake knocked our socks off! We could not stop oohing and aahing around the table as we enjoyed the warm from the oven, moist, pumpkin cake. Suffice to say I will not be exploring new recipes next year, I'll most definitely be making this again. In fact I anticipate one of these babies in my future in the next few weeks, then multiple ones in the fall, and so on. Ya
Ps: For those of you subscribed to the newsletter- things are a little delayed on my end, so the next edition will not be going out until early next week. I'll put a notice up on the blog when it does!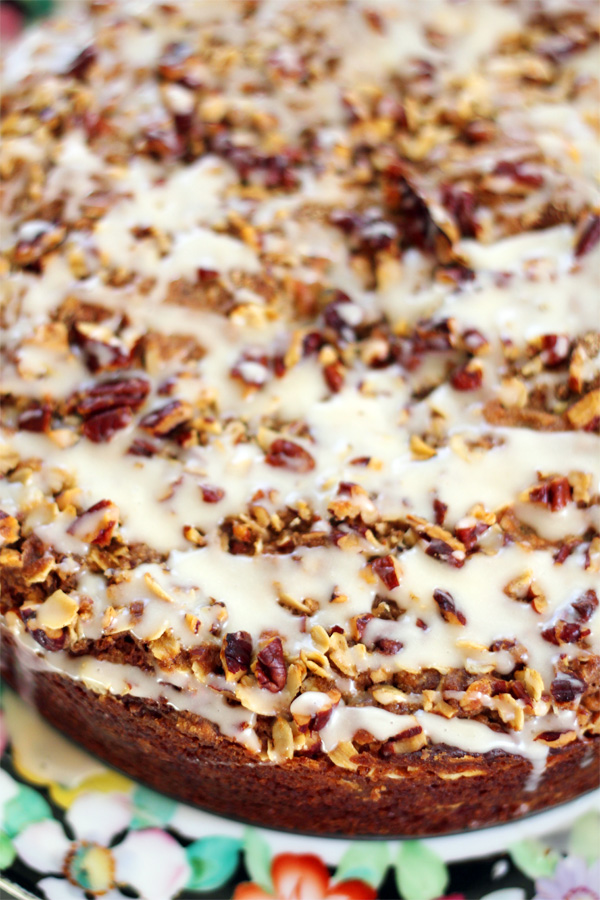 Pumpkin Coffee Cake with Oat Brown Sugar Streusel slightly adapted from Portugese Girl Cooks
For the Streusel:
1/3 cup all-purpose flour
1/2 cup firmly packed light brown sugar
1 teaspoon ground cinnamon
pinch of salt
5 tablespoons cold, unsalted butter, cut into small chunks
1/2 chopped, lightly toasted pecans
1/2 cup rolled oats
For the Cake:
1-1/2 cups all-purpose flour
2 teaspoons baking powder
1/2 teaspoon baking soda
2 teaspoons ground cinnamon
1/2 teaspoon ground ginger
1/4 teaspoon nutmeg
1/2 teaspoon kosher salt, or slightly less table salt
1/2 cup unsalted butter
1 cup firmly packed light brown sugar
2 large eggs
1/2 cup homemade or canned pumpkin puree
1/2 cup plain yogurt
For the Glaze:
1/2 cup powdered sugar
1-1/2 teaspoons milk
1 teaspoon pure vanilla extract
Preheat oven to 350°, and position rack to the middle position. Butter and flour a 9-inch springform pan. Alternatively, you can use a 9-inch cake pan with 3-inch sides.
In a small bowl, combine the flour, brown sugar, pecans, oats, cinnamon, and salt. Add in the pieces of butter, and using a pastry cutter, or 2 knives, cut the butter into the flour mixture until coarse crumbs have formed.
In a medium bowl, whisk together the flour, baking powder, baking soda, cinnamon, ginger, nutmeg, and salt. In the bowl of a stand mixer fitted with the paddle attachment, beat the butter and brown sugar on medium-high speed until it is well combined. On low speed, beat in the eggs, one at a time, scraping the bowl after each addition. Add in the pumpkin puree and sour cream and mix on low speed just until combined. Fold in the flour mixture by hand. Batter will be thick. Evenly spread half of the cake batter in the cake pan, and then top with 1/3 of the streusel. Evenly spread the remaining cake batter, then top with the remaining streusel topping.Bake for about 50 minutes, or until a toothpick inserted comes out clean. Cool in pan on a cooling rack for 15 minutes, then remove from pan and cool.
In a small bowl whisk together the powdered sugar, milk, and vanilla. Whisk until smooth. Drizzle over cooled cake.