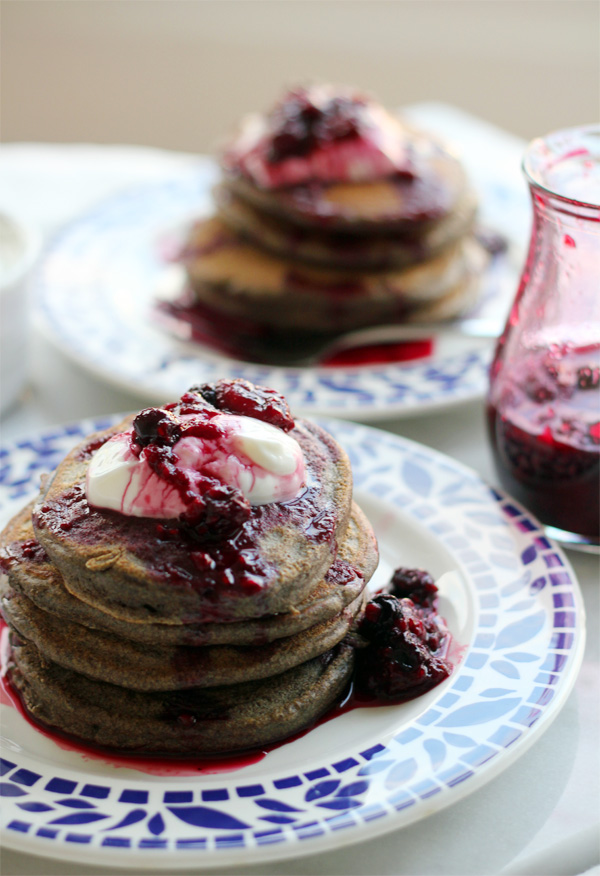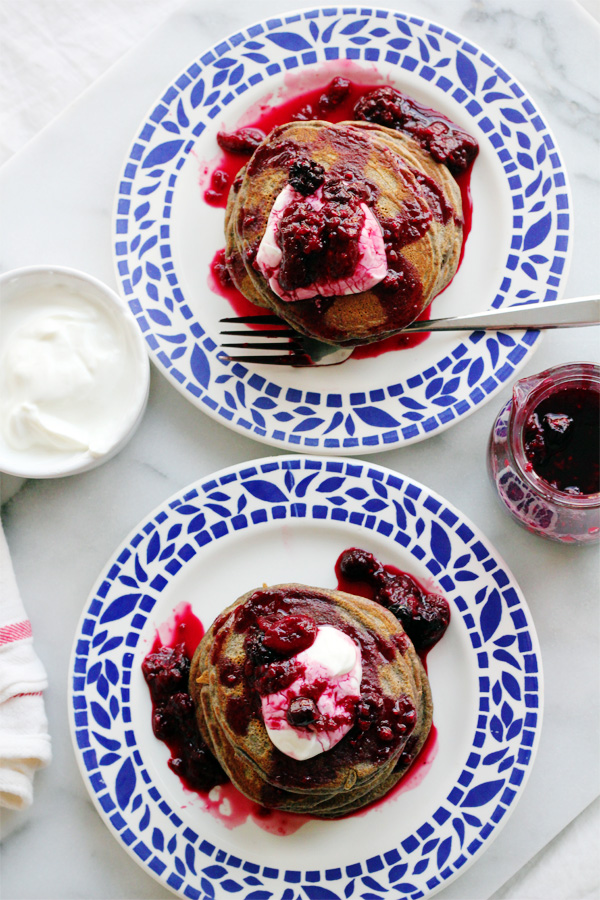 I get into really bad habits with my cookbooks. Instead of being propped open on my counter, splattered with food, they sit on my bookshelf- gathering dust. This weekend, since I got a new cookbook as a belated Christmas gift, I got to reorganizing my collection. I quickly became immersed in all the beautiful recipes. You know, the ones you marked when your book first arrived and then forgot about? Yeah, guilty as charged. But my reorganizing session totally reinvigorated…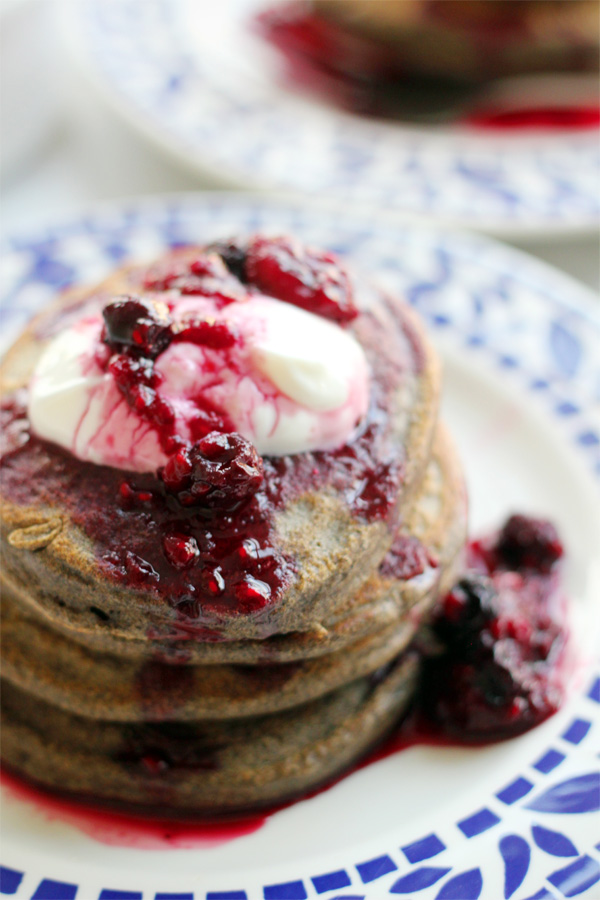 my love for all the books in my collection, and also made them way more visible, as most are now stacked under our coffee table (practically starting at me to make something!). I, of course, rediscovered a whole bunch of recipes to share here, but wanted to kick things off with these gorgeous buckwheat flapjacks with this insanely good (but oh so easy) triple berry sauce. The recipe actually came from Frances Largeman Roth's most recent publication, Eating in Color, who I had the sweet pleasure of meeting last week. Immediately upon opening her new book I landed upon these pancakes. The berries, the buckwheat, it was unlike any pancake I'd made before… but is most definitely becoming a staple in our house! They're the perfect amount of sweet without feeling overly rich, and the sauce itself can be used on anything from pancakes and waffles to yogurt and ice cream. This is a must make, guys!
Here's to a great week!
Buckwheat Flapjacks with Maple Berry Sauce from Eating in Color
Makes 18 pancakes
1 cup all purpose flour
1 cup buckwheat flour
1 tsp baking soda
1/4 tsp salt
3 tablespoons light brown sugar
1 tsp cinnamon
1 3/4 cups milk (2%)
1/4 vegetable oil
1 large egg
butter or non stick cooking spray ( I love the coconut spray from Trader Joe's)
For the berry sauce:
1 cup frozen or fresh blueberries
1 cup frozen or fresh raspberries
1 cup frozen or fresh strawberries
1/2 cup pure maple syrup
1 tsp vanilla extract
Place the berries in a saucepan or medium high heat. Pour in the maple syrup, cover, and bring to a simmer. Simmer for 8-10 minutes, stirring occasionally. Turn the heat off, stir in the vanilla, and skim off any foam that may have risen.
While the berries cook, prep the pancakes. Combine the flours, baking soda, cinnamon, brown sugar, and salt in a large bowl. In a separate bowl, whisk together the milk, oil, and egg. Make a well in the dry ingredients and stir in half the wet mixture. Add the remaining wet mixture and combine thoroughly.
Spray a large nonstick sauté pan with cooking spray and heat over medium heat. Measure 1/4 cup amount of batter into the pan. Cook for about 3 minutes on the first side, until bubbles begin to form on the surface, then flip and cook for another 2 minutes.  Serve with berry sauce and Greek yogurt if desired.