Happy Friday, friends! Thanks for bearing with my silence this week.  We are sooo close to the new site but I couldn't move on from this space without reflecting a little bit. And  I had to start with this photo comparison…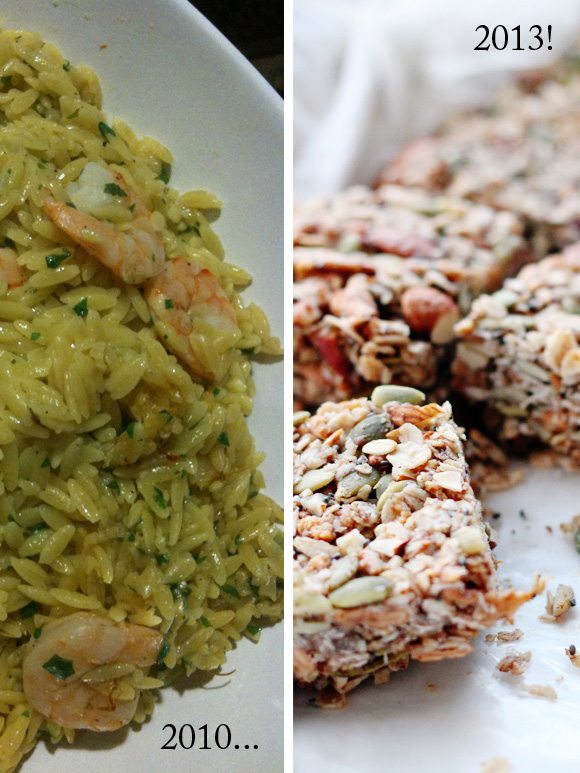 The left photo was taken just a week or two into the start of Channeling Contessa.  As much as that grainy dark photo of shrimp risotto pains me, the transition to the one on the right, I think, really speaks to the journey of creating good content. It just takes time time.
When I first started Channeling Contessa, I simply wanted a space to share my cooking, be creative, and maybe- just maybe- interact with readers. Even though it was 2010, I was stilling entering the blog world at a time when the big names were BIG. I told myself I was fine always being a little fish, and that in the end, this blog was just for me. At times it was really hard to believe in that statement (really hard), but it's largely what carried me through for the first 12-18 months. I strongly believe to make something of a blog, you have to start from a place of expecting nothing in return. Yep, nothing. But at the same time, you have to be driven to work towards continually increasing the quality of your content.
Blogging has made me a huge believer in the importance of creating simply for the sake of creating. If you're working towards building something of quality, only good things can come. And that "good thing" can simply be clarity on the direction of your life or career, which I think we'd all agree is pretty valuable. Press, work, partnerships, free product, etc. are really just the icing on the cake.
If you had told me three years ago Channeling Contessa would be a catalyst for jumpstarting my own business, I would have say absolutely no way, no how. I still kind of say no way, no how. But somehow it did. It's important to recognize though, it was not me alone. It took money, it took a lot of time, it took tears, it took help from family, friends, and a slew of freelancers, and probably a whole host of other things I've pushed to the back of my mind.
As I sat down to write this post today, the following quote from Nelson Mandela was at the forefront of my mind: "It always seems impossible until it's done." Though I'm certainly far from done, where I am today never seemed possible from the beginning (let alone even fathomable). And in a way, it makes everything that much sweeter.
I'm admittedly a little nervous and sad to bring Channeling Contessa to a close, but I am SO so beyond excited to begin this next chapter at clarapersis.com.  The new chapter will still involve similar content to what you see here- recipes (Yes- still recipes- for those of you who have asked!), snippets of my life, and features on favorite spots in the city. I'm also excited to start introducing some video content (yay!) and a newsletter dedicated to blogging and social media marketing tips. I can't wait!
With this change I will also be bringing the blog solely back to me. I am forever grateful for the amazing content both Sarah and Lauren contributed over the last few years. Without their contributions this blog most definitely would not be where it is today. So a big, heartfelt thank you to both of them. And lastly, it goes without saying, I owe a huge thank you to each and every one of you who continues to visit my humble space. I'm sending the biggest hug your way today! Without your support none of this would have ever happened.
I'm off to squirrel away and wrap up the new site this weekend, and I'll see you all on the other side on Monday! With a celebratory cocktail, naturally. Have a great weekend! xx