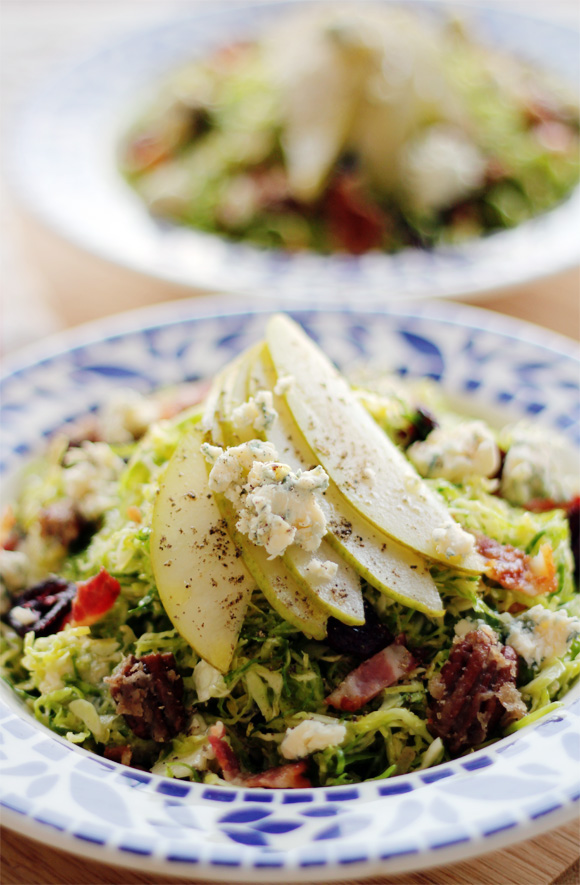 Aaaah what a holiday! How was yours? Our weekend was surprisingly relaxing, and I'm so thankful for that. Do you ever go through periods where you start to feel less and less like yourself? I found myself in that boat from being sick and letting exercise slip heavily out of my life for the past few weeks. But a few days of sleeping in, having my mom cook for me, and filling myself with good food was the perfect reset button. I got back to my yoga mat on Friday and kicked off another round of Ripped in 30 on Saturday. I've already seen a huge change in my mood and am feeling really energized about getting back to it today, and ending the year on a high note. Just a few weeks left! What's most exciting is that my new site will (finally!) be launching next week. It's thrilling on so many levels and I can't wait to share it with you all. In order to make sure things are in tip top condition for the launch, I'll be taking most of this week off from the blog to finish the new site. I'll be back on Friday with some final thoughts on this blog, a little bit of the back story on Channeling Contessa, and what's to come for me for the rest of the year and 2014.
In the mean time I leave you with this killer shaved brussels sprouts salad. I brought this baby to a dinner party this weekend. When I discovered it was going to be served alongside two trays of lasagna made with fresh pasta, ricotta, mozzarella, and homemade sausage from Eataly, I figured I'd be toting home a ton of leftovers. But no such thing! The salad was devoured. It is that good. Here's to a wonderful week and making the most of the last month of the year!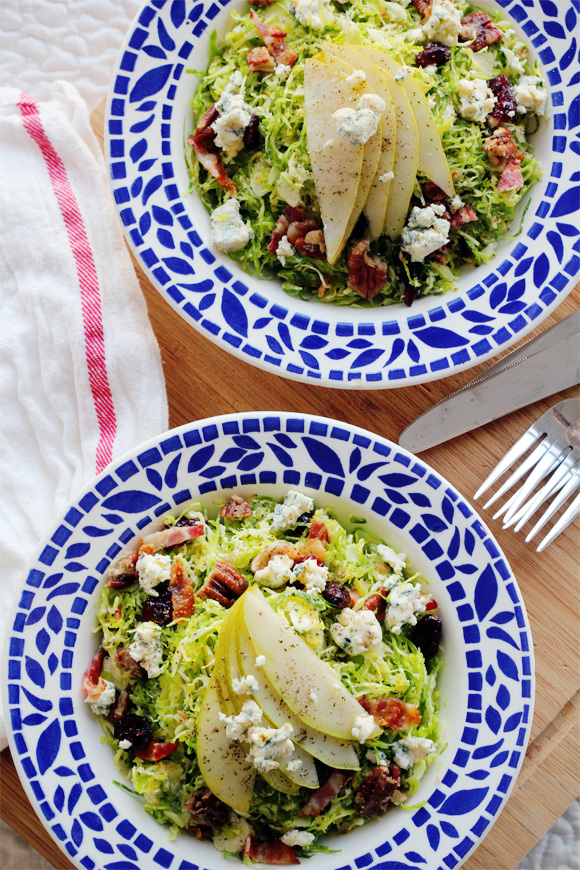 Candied Brussels Sprouts Salad with Blue Cheese, Bacon, and Pears
Serves 8-10 people as a side salad ( you can easily half the recipe!)
1.5 pounds brussels sprouts cleaned and thinly shredded (a mandolin is necessary for this)
1 large pear, thinly sliced
1 cup crumbled blue cheese
6 slices of cooked bacon, roughly chopped
1 cup candied pecans
3/4 cups dried cranberries
For the dressing:
1 cup cup olive oil
2 T bacon fat (optional)
1/2 tablespoon plus 1 teaspoon French dijon mustard
1/2 tablespoon plus 1 teaspoon real maple syrup
3 tablespoons apple cider vin
1/2 tsp salt
fresh ground pepper
Make the dressing: Whisk together all ingredients but the olive oil. Once combined, slow stream in the olive while whisking so the dressing emulsifies. Taste for seasoning. The dressing should have good bite- salty, a little sweet, and pretty tangy. Add more salt, vinegar, mustard, or maple syrup if necessary.
In a large bowl toss together the shredded sprouts, 3/4 of the pear, 3/4 cup of the blue cheese, 3/4 quarters of the chopped bacon, 3/4 cup of the pecans, and 1/2 cup of the cranberries. Pour 3/4 of the dressing over the salad and toss really well, using your hands if necessary to work the dressing in. Place the salad in a serving bowl, garnish with the remaining cheese, pear, bacon, cranberries, and nuts. Pour the remaining dressing over the top and sprinkle with salt and pepper. Serve immediately. Salad can be stored up to four days in the fridge.