Coooookies. Boy do I love 'em this time of year. Last Friday night I hunkered down at home to make these kicked up snickerdoodles. We had Elf playing in the background (my fifteenth or so time watching), and it was the perfect way to wind down the week and embrace the holidays from the comfort of our home. Have you listened to the soundtrack of that movie? I am in love! I think it may take the cake for my favorite holiday album. But then there's always Frank Sinatra, and did you know Fun has a Christmas album?  I can't even deal. And yes I am that into Xmas music. No judging.
Lucky for you, these cookies are part of an even bigger virtual cookie swap! Thanks to Victoria's wise blogging mind (that girl is a genius, I tell you), she arranged to have myself and the following bloggers share a holiday cookie recipe on the same day. Check out the other fabulous recipes below!
Officially drooling over here. What are you guy's baking this season?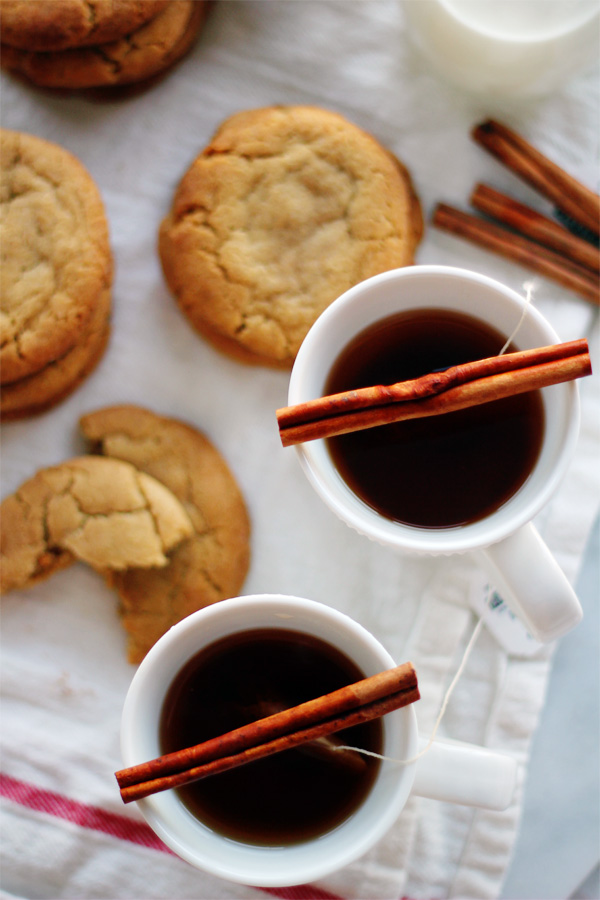 Brown Butter Snickerdoodles slightly adapted from Ambitious Kitchen
Makes 20 or so large cookies
Cookies:
2 1/2 cups all purpose flour
1 teaspoon baking soda
2 teaspoons cream of tartar
1/2 teaspoon cinnamon
3/4 teaspoon of salt
2 sticks (1 cup) unsalted butter
1¼ cup packed dark brown sugar
1/2 cup granulated sugar
1 large egg plus 1 egg yolk
1 teaspoons vanilla extract
Rolling mixture:
1/4 cup sugar
2 teaspoons cinnamon
Whisk together the flour, baking soda, cream of tartar, 1/2 teaspoon cinnamon, and salt in a bowl and set aside. Melt butter in a saucepan over medium heat. The butter will begin to foam. Make sure you whisk consistently during this process. After a couple of minutes, the butter will begin to brown on the bottom of the saucepan; continue to whisk and remove from heat as soon as the butter begins to brown and give off a nutty aroma. Immediately transfer the butter to a bowl to prevent burning. Set aside to cool for a few minutes.
With an electric mixer, mix the butter and sugars until thoroughly blended. Beat in the egg, yolk, and vanilla until combined. Add the dry ingredients slowly and beat on low-speed just until combined. Chill your dough for at least three hours or preferably overnight. The dough must be very cold.
Preheat the oven to 350 degrees F. Once dough is chilled, create small balls of dough (about 3 tablespoons each). Meanwhile mix 1/4 cup sugar and the 2 teaspoons cinnamon in a bowl. Roll balls in cinnamon-sugar mixture. Place dough balls on cookie sheet, 2 inches apart.
Bake the cookies for 9-11 minutes or until the edges of the cookies begin to turn golden brown. They will look a bit underdone in the middle, but will continue to cook once out of the oven. Bake longer if you like crispier cookies. Cool the cookies on the sheets at least 2 minutes. Remove the cooled cookies from the baking sheets after a few minutes and transfer to a wire rack to cool completely. Repeat with remaining dough.