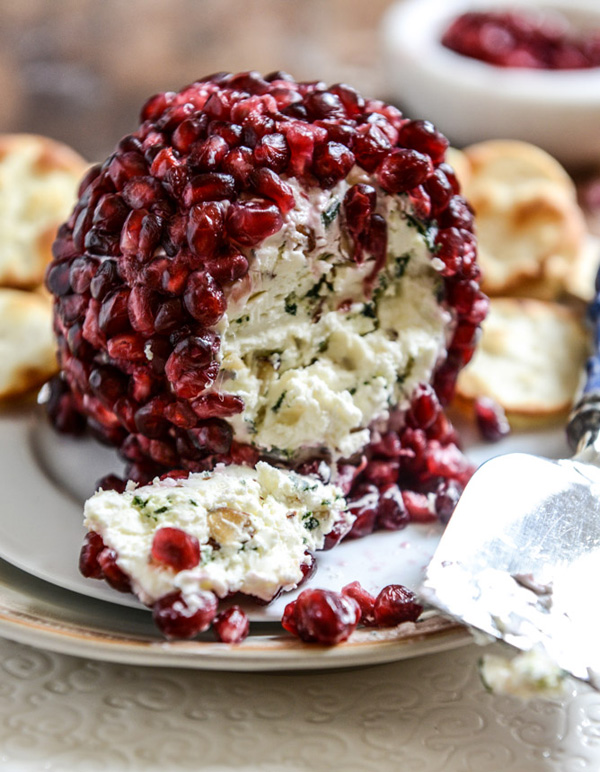 Gaaaah the holidays. They're wonderful but also stressful! Does anyone else feel that pressure to fit everything in… from going ice skating to drinking hot chocolate next to a perfectly decorated tree? Yeah, me too. And we don't even have a tree yet! But here's the thing, it really shouldn't be about all that. It should be about putting an extra effort towards spending time with friends and family and welcoming people into our homes (even when they're not perfectly clean). Right? Right!
It's so easy to over think a food menu this time of year, so I put together a list of eight easy appetizers that you can entertain with on a whim. All you need is a bottle of booze and you're good to go!
1. Jazzed Up Pickles + Olives Get yourself some Cornichons, the little French pickles, or a load of mixed olives (or you could mix both together). Toss with olive oil, lemon or orange zest, and whatever herbs you have on hand. I love pickled anything with a bottle of bubbly.
2. Fresh Ricotta with Sea Salt & Olive Oil There's a bar in Williamsburg that serves the most amazing ricotta with olive and rosemary. On the side is thinly sliced baguette and flaked sea salt. You would not believe how good it is! The key is to get good bread and freshly made ricotta from your local cheese store.
3. Salami + English Cucumber This is actually a Barefoot Contessa concept, but it's one of my favorites. All you do is take a rectangular platter and place thinly sliced hard salami and English cucumber side by side in two rows. I like the contrast of a fresh bite against something more indulgent.
4. Homemade Popcorn Homemade popcorn is such a treat and it's so easy! You can follow this recipe but feel free to get creative with the toppings. Even just olive oil and salt is a crowd pleaser.
5. Apples + Cheddar This is similar in nature to the salami and cucumber idea, but applied to apples and cheddar cheese. Go for a crisp apple like a Pink Lady (my favorite!), Granny Smith, or Honeycrisp, and try to get some quality sharp cheddar.
6. Pigs In a Blanket Not at all fancy, but who does not love these!? I like to use the Applegate Pork Cocktail Franks, an all butter puff pastry, and a nice French mustard (like Maille) for dipping.
7. Radishes with Butter + Salt This is such a classic French appetizer. All you need is sliced radishes, softened butter (I love Kerrygold), and salt. Guests then dip the radishes in a little butter and sprinkle with salt. If you're feeling more adventurous, Becca has a great spin on this recipe. This bite is really good with champagne!
8. Baked Goat Cheese with Honey The basic concept here is salty and sweet, so the honey could be replaced with fig jam or something like that. I'd let the goat cheese sit out to soften, then mix it with some honey and fresh pepper, and bake for 10-15 minutes at 400°. Serve with Rosemary Carr's crackers. Simple but so good!
Do you have any quick go to appetizers for this time of year? I'd love to hear! Let's dish.
Image Credit: White Cheddar Pomegranate Cheese Ball from How Sweet It is