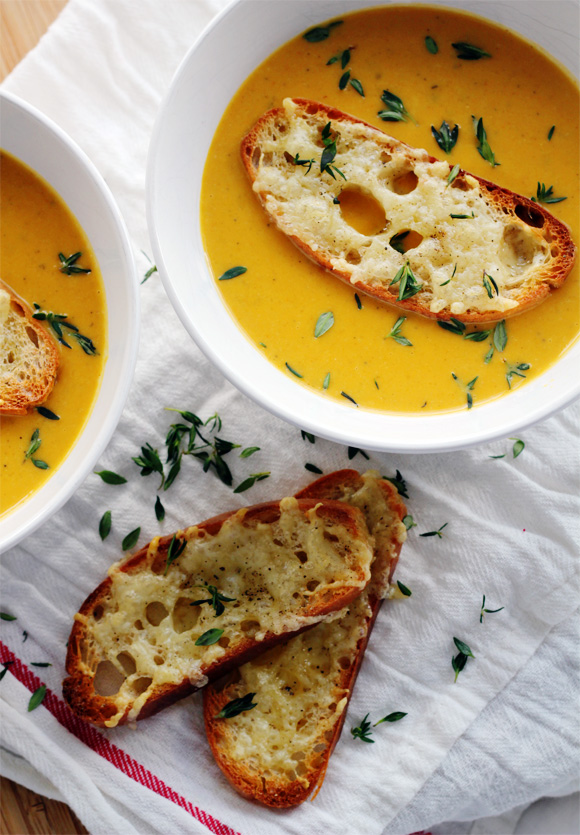 On Saturday Brandon and I did something we hadn't done in, well, I can't even tell you how long. We went clothes shopping! Together. In a store. Meaning, not online. We also went clothes shopping in Soho, which if you live in New York, you know is sort of the kiss of death on a Saturday. But is was fun! I rarely clothes shop these days, not for lack of wanting items, simply for lack of time. But earlier this fall I conducted the biggest purge of all time (truly) and now actually have very few things to wear. In fact, if I see you twice in one week, you'll likely see me wearing the same thing. I'll most definitely be wearing the same jeans. But maybe (just maybe) in a few weeks you'll see me in something new, because I'm now in the process of carefully adding new pieces to my wardrobe. The process started on Saturday with this sparkly sweater and wool head wrap from Banana Republic. I'm Christmas card ready!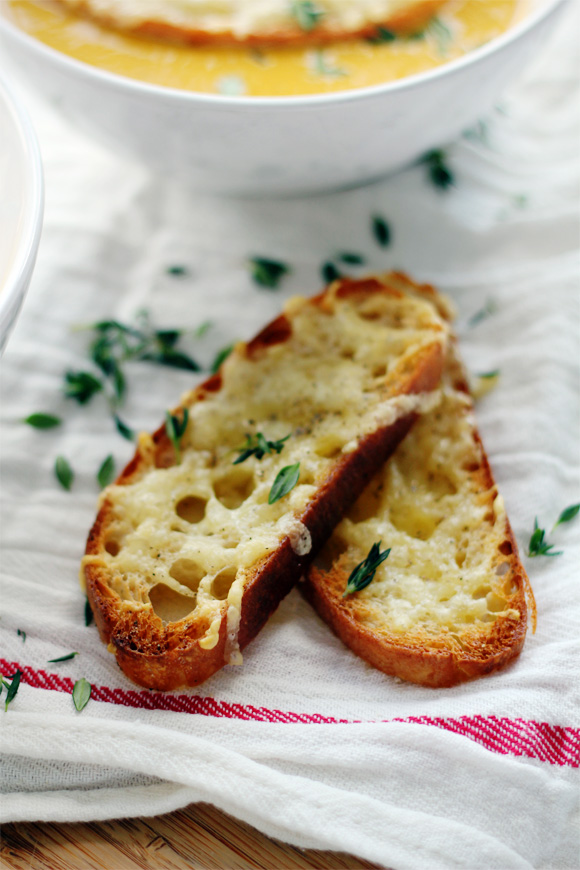 Anyway… after our shopping extravaganza, we headed home and holed up inside for a Saturday night on the couch. I made this pumpkin and white bean bisque which, despite the short amount of time it took to prepare, really delivered on flavor. It was actually way better than I expected and will likely take the cake for my favorite soup of the season. This is one you have to make.
Here's to a great week!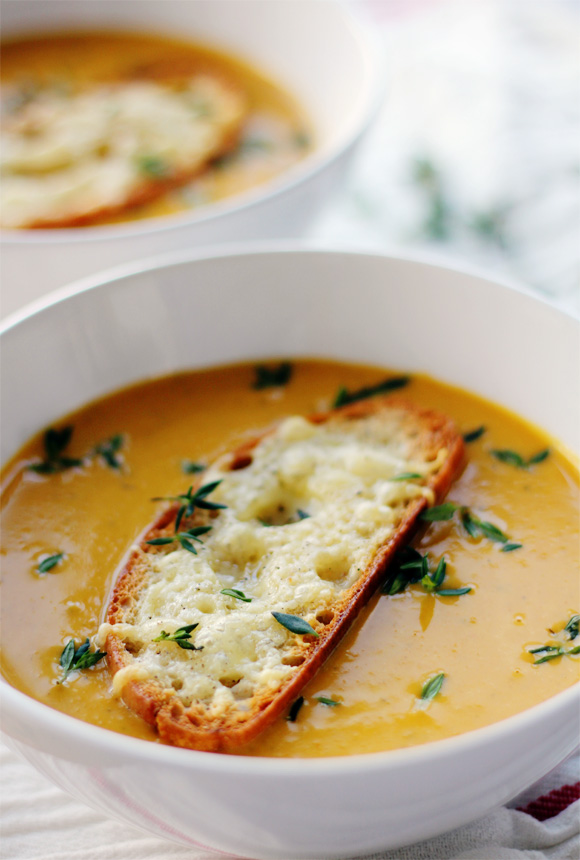 Pumpkin & White Bean Bisque with Manchego Toasts adapted from Cooking Light
Serves 4
1 medium yellow onion, diced
5 cloves garlic, smashed
2 1/2 tablespoons salted butter
1 15 oz can white beans, drained and rinsed
1 15 oz can puréed pumpkin
2 1/2 cups low sodium chicken broth
1/3 cup heavy cream
1 tablespoon apple cider vinegar
1 tsp dried sage
1/4 tsp cumin
1/2 tsp freshly ground black pepper
1 tsp sea salt
For the toasts: thinly sliced ciabatta bread, shredded Manchego cheese, olive oil
fresh thyme for garnish (optional)
Set a heavy bottomed pot to medium heat. Add the butter, onion, and garlic to the pan and sauté for 8-10 minutes until softened. Add the sage and cumin, and stir to combine. Add 1/2 cup of the chicken broth and heat for a few more minutes, scraping any brown bits off the bottom of the pot.
Move onion mixture to a blender. Add in beans, pumpkin, and remaining chicken broth. If this is too much liquid, do it in batches. Purée until very smooth. Once puréed, return onion, pumpkin, and bean mixture to the pot. Add salt and pepper and bring to a simmer. Let soup simmer for 10-15 minutes while you prepare the toasts.
Make the toasts: Set the oven to broil. Place the bread on a baking sheet. Cover generously with cheese, drizzle with olive oil, and sprinkle with a bit of pepper. Place under the broiler for 2-3 minutes until melted. Watch the toasts closely so they do not burn!
Right before serving, remove the soup from the heat. Stir in the vinegar, and then stir in the heavy cream. Serve with toasts and garnish with fresh thyme if desired.