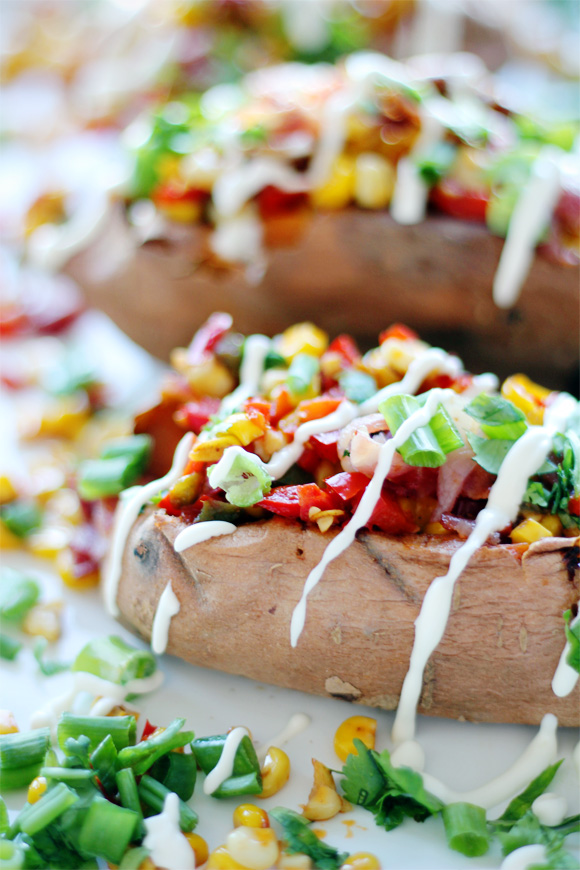 People often ask me how I make time to cook during the week and it really comes down to three things- having a handful of easy recipes in my arsenal, counting a huge hearty salad as a dinner about once or twice a week, and doing some weekend prep. Nine times out of ten on Sunday nights I'm prepping a dish that will serve as multiple meals or has components that can be repurposed into other dishes across the week. That is these stuffed sweet potatoes in a nutshell. I prepped the hash on Sunday, let it cool, and threw it in the fridge. Last  night we had the sweet potatoes pictured above (I just reheated the hash right before I served it), and I'm planning to serve the rest of the hash under some poached eggs or over some quinoa later this week. You could even make it the basis of a big Southwestern inspired salad-just add romaine, avocado, black beans, diced tomato, and whatever else you like! See where I'm going with this? That's my secret to weeknight meal planning. And in terms of the dishes as of late, I'm using as much fresh corn as possible- it's literally like candy this time of year. In fact, prepare to see another easy weeknight dish featuring corn coming your way soon!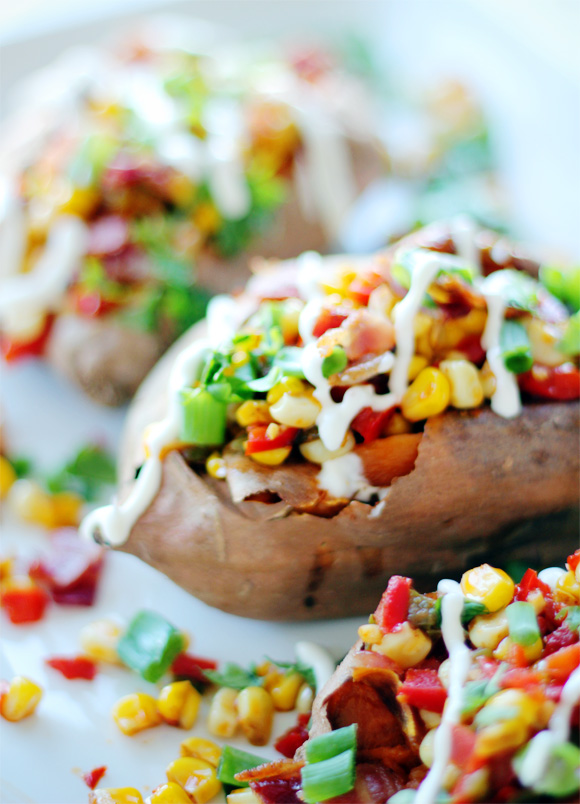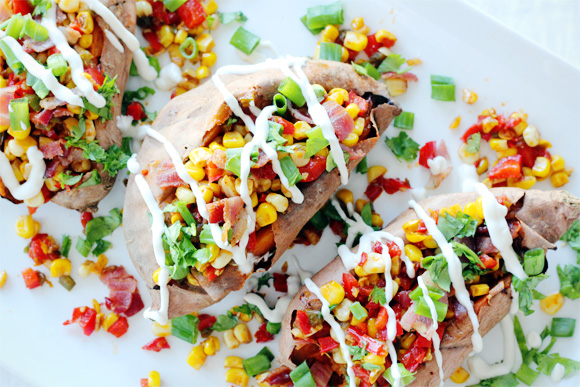 Fresh Corn and Bacon Hash Stuffed Sweet Potatoes with Lime Crema
serve 4
4 medium sized sweet potatoes

2 slices of bacon
2 ears fresh corn, corn cut from cob
1 red bell pepper, cut into a small dice
1 jalapeño (seeds and ribbing removed), minced
1 large clove garlic, minced
1/2 tsp salt
1/4 tsp chili powder
1/4 tsp (heaping) cumin
fresh ground pepper
1/3 cup sour cream
juice of 1/2 a small lime
1/4 tsp salt
extra virgin olive oil
chopped green onions and fresh cilantro for serving
Preheat your oven to 400°. Once heated, add in the potatoes and bake for 45 minutes to 1 hour until you can press a paring knife very easily into the center of the potato.
Place the bacon in a large frying pan. Set to medium low heat and cook for 4-5 minutes on each side until crispy. Remove the bacon from the pan and set aside. Increase the heat to medium, add in the jalapeño and pepper and cook for 8-10 minutes until soft. At this point if the pan feels a little dry, add a splash of olive oil. Next, mix in the corn, garlic, 1/2 tsp salt, chili powder, cumin, and pepper. Stir to combine. Let cook, stirring occasionally, for 10 minutes or until flavors meld.
Make the crema: Mix together the sour cream, lime juice, and salt. Set aside.
One the potatoes are cooked, let cool until easy to handle. Place them on a large platter and split down the center. Break up the potato on the interior a bit. Generously fill potatoes with hash. Top with green onions, cilantro, and crema. Serve immediately.