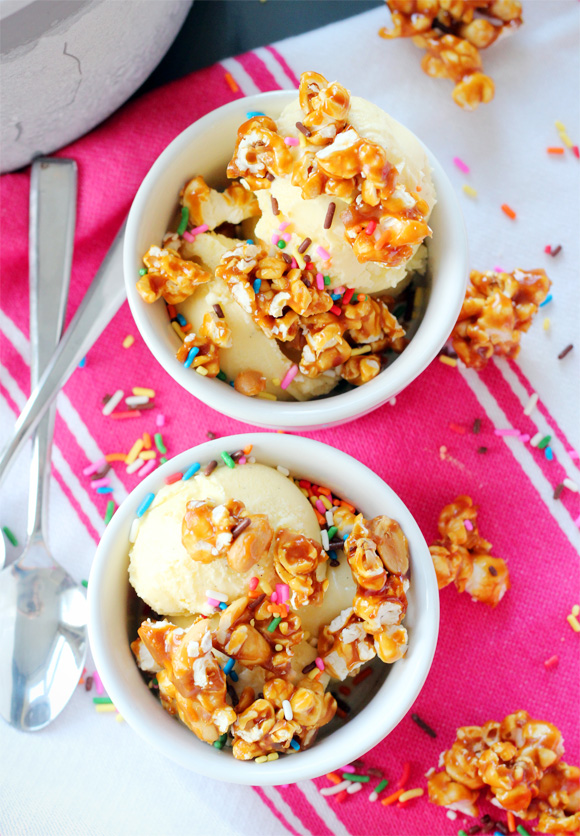 The last few weekends I've been savoring my stack of Bon Appétit magazines from the past few months, folding over pages, revisiting recipes, and selecting two to three new things to make. It's been great. This weekend included some zucchini fritters, these little apricot cakes (recipe to come!), and this ridiculously fun sundae. A few of you had expressed concern over the use of corn syrup in previous ice cream recipes so, as promised, here is a beautiful ice cream recipe sans corn syrup! I even subbed out corn syrup with honey in the caramel corn and it worked perfectly. I can't help but look at these photos and feel like the little bowls should be toted off to a five year old's birthday celebration. The pink, the sprinkles, the sticky sweet caramel corn- it would make for a killer party. Here's to a great week! Hope your Monday is fab.
Popcorn Crunch Sundae slightly adapted from Bon Appétit
Serve 4-6
Caramel Corn:
6 tablespoons unsalted butter

3 cups popped popcorn
1/2 cup salted roasted peanuts
1/4 tsp sea salt
3/4 cup sugar
2 tablespoons honey
Line a rimmed baking sheet with parchment paper. Rub with butter or spray with nonstick spray and set aside. Combine popcorn and peanuts in a large mixing bowl.
Bring sugar, honey, and 2 tablespoons water to a boil, stirring to dissolve sugar. Add butter and salt, stir until melted. Continue to cook over medium high heat, stirring often until caramel is a deep amber color (10-12 minutes).
Working quickly pour caramel over popcorn mixture and toss with a heatproof spatula to coat. Transfer popcorn to prepared baking sheet, spread out a bit, and let cool. Once cooled, break into pieces.
True Vanilla Ice Cream
Makes 3 1/2 cups
1 1/2 cups heavy cream

1 cup whole mix
5 egg yolks
1/2 cup sugar (divided)
pinch of kosher salt
1 vanilla bean, split lengthwise (or 1 tsp vanilla extract).
Combine milk, cream, 1/4 cup of sugar, and a pinch of salt in a medium saucepan. Scrape in vanilla seeds, add in pod. Bring mixture to a simmer, stirring to dissolve sugar. If using a vanilla bean, cover and let sit for 30 minutes.
Whisk eggs yolks and remaining sugar in a bowl until light and pale, about 2 minutes. Gradually whisk in 1/2 cup of the cream mixture. Whisk yolk mixture into remaining cream mixture. Cook over medium heat, stirring constantly, until thick enough to coat a wooden spoon, 2-3 minutes. Strain custard into a medium bowl set over ice water; let cool, stirring occasionally. Process custard in your ice cream maker according to manufacturer's instructions (I have a Cuisinart and it churns for roughly 18-20 minutes). Transfer to an airtight container, cover, and freeze until firm-at least 4 hours and up to 1 week.