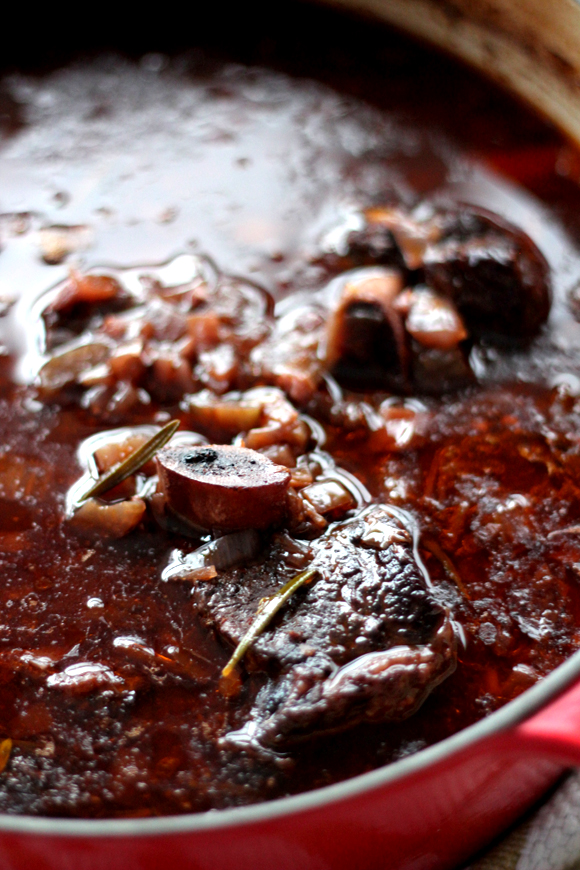 Let's discuss cooking meat. It's kind of tricky, no? I would say I didn't really get a little good at cooking meat until the last few years. I'm still not great at knowing when a steak is cooked to perfection, and don't even get me started on fish. A little different than meat, but still, really daunting for me to cook. But the one method I always come back to because I find it not quite as scary when it comes to cooking to protein, is roasting.  I have nailed my roast chicken techniques, and I have to say I'm pretty good when it comes to short ribs.
If you've never made beef short ribs before, Ina's recipe is a great place to start. There's quite a bit of chopping involved, but the overall process is really straight forward and approachable. The other kind of amazing thing about short ribs is that they can be made a day ahead- and they're actually kind of better that way. Prep them the day before and just reheat slowly over the stove 30 minutes or so before you're ready to serve dinner. Whip up a big batch of buttermilk mashed potatoes or creamy polenta to go with and you have the ultimate comfort meal.
Beef Short Ribs slightly adapted from Ina Garten
3 lbs beef short ribs
Kosher salt
Freshly ground black pepper
1/4 cup good olive oil
2 leeks, cleaned and large-diced, white part only
1 1/2 cups chopped onion (2 onions)
4 cups large-diced celery (6 large stalks)
2 carrots, peeled and large-diced
3 garlic cloves, minced
2 tablespoons tomato paste
1 (750-ml) bottle Cotes du Rhone or other dry red wine
Fresh rosemary sprigs
Fresh thyme sprigs
1 tablespoon brown sugar
6 cups beef stock
Preheat the oven to 400°. Place the short ribs on a sheet pan, sprinkle with salt and pepper, and roast for 15 minutes. Remove from the oven. Reduce the oven temperature to 300°.
Meanwhile, heat the olive oil in a large Dutch oven and add the leek, onion, celery and carrots and cook over medium-low heat for 20 minutes, stirring occasionally. Add the garlic and cook for another 2 minutes. Add the tomato paste and wine, bring to a boil and cook over high heat until the liquid is reduced by half, about 10 minutes. Add 1 tablespoon salt and 1 teaspoon pepper. Tie the rosemary and thyme together with kitchen twine and add to the pot.
Place the roasted ribs on top of the vegetables in the Dutch oven and add the brown sugar and beef stock. Bring to a simmer over high heat. Cover the Dutch oven and bake for 2 hours or until the meat is very tender.
Carefully remove the short ribs from the pot and set aside. Discard the herbs and skim the excess fat. Cook the vegetables and sauce over medium heat for 20 minutes, until reduced. Put the ribs back into the pot and heat through. Serve with the vegetables and sauce.