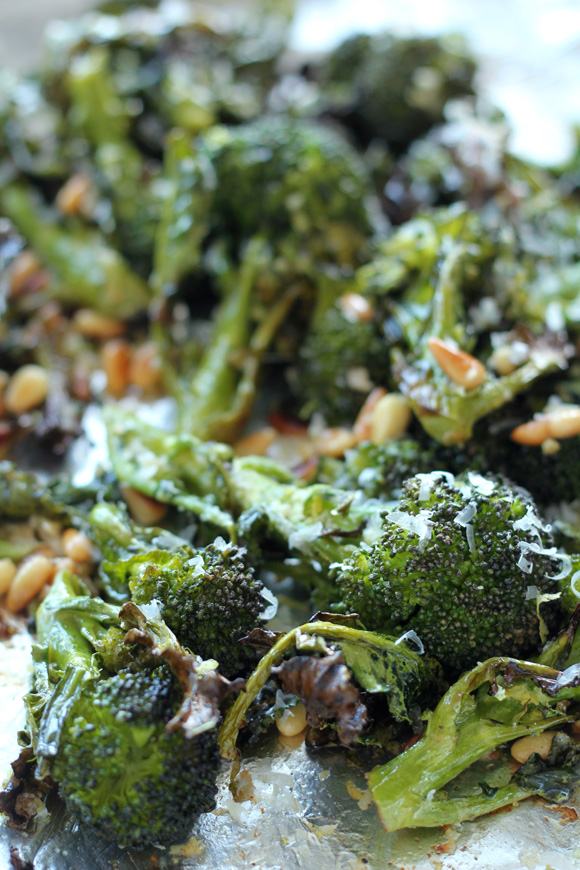 Up until this recipe, I kind of only enjoyed broccoli in two forms- either slathered in sugary sauce form Chinese takeout, or when prepared by a friend of mine down in DC. She'd host dinner parties and often make broccoli. I have no idea what she did, but it was always so good (hmm sorry I can't be of more help there). But then. But then came this recipe. One of those why have I waited this long to make this recipe kind of recipes. It's easy and delicious- the level of delicious where I want to eat an entire pan of roasted broccoli myself. I'm pretty sure it's the lemon juice and zest which seals the deal here, and the way the broccoli and its leaves gets slightly charred- completely irresistable. You want a nice al denté bite to the broccoli, so when it gets around the 20 minute mark of roasting, test it by pushing a knife or fork into one of the stalks- it should resist a bit. Also, if you're using tiny broccoli florets, the cooking timing will likely be much less- I recommend checking after 15 minutes or so of roasting.
I know it's Monday and I just showed you broccoli, but I assure you it is that good. Promise. Now let's get to it!
Parmesan Roasted Broccoli from Ina Garten's Back to Basics
Makes 6 servings
4 to 5 pounds broccoli
4 garlic cloves, peeled and thinly sliced
Good olive oil
1 1/2 teaspoons kosher salt
1/2 teaspoon freshly ground black pepper
2 teaspoons grated lemon zest
2 tablespoons freshly squeezed lemon juice
3 tablespoons pine nuts, toasted
1/3 cup freshly grated Parmesan cheese
2 tablespoons julienned fresh basil leaves (about 12 leaves) (I made it once with basil and one without- I'd say it's optional)
Preheat oven to 425°.
Cut the broccoli florets from the thick stalks, leaving an inch or two of stalk attached to the florets, discarding the rest of the stalks. Cut the larger pieces through the base of the head with a small knife, pulling the florets apart. You should have about 8 cups of florets. Place the broccoli florets on a sheet pan large enough to hold them in a single layer. Toss the garlic on the broccoli and drizzle with 5 tablespoons olive oil. Sprinkle with the salt and pepper. Roast for 20 to 25 minutes, until crisp-tender and the tips of some of the florets are browned. While the broccoli cooks, place the pine nuts in a small frying pan and cook over medium heat, stirring until lightly browned. Set aside.
Remove the broccoli from the oven and immediately toss with 1 1/2 tablespoons olive oil, the lemon zest, lemon juice, pine nuts, Parmesan, and basil. Serve hot.