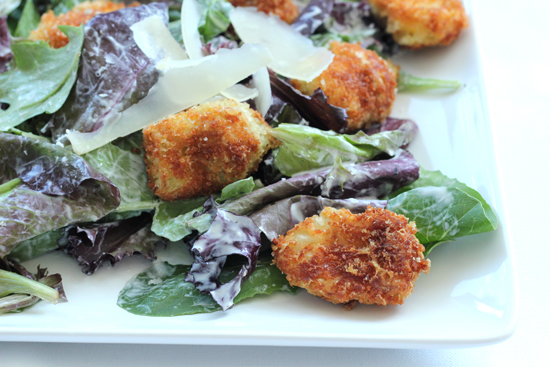 Hello! And happy Monday! Apologies for the lateness of this post. I was having an all around great weekend and looking forward to a pretty routine week, but then yesterday afternoon I got hit with a nasty stomach flu which left me out of commission for all of Sunday and most of today. Seriously, this one came out of absolute nowhere! I've been pretty unlucky in terms of getting sick this season, so here's hoping this is the last of it.
I'm still in recovery mode but I wanted to tell you guys about this delicious salad I made last week. The inspiration for this dish came from a restaurant in our neighborhood which makes a crispy artichoke salad with creamy garlic dressing. I had it a few weeks back and I have yet to stop thinking about it, so I was determined to recreate it at home. Here's the deal: artichoke hearts get cut in half and then dredged in flour, egg, and a bread crumb and parmesan cheese mixture.  They're lightly fried and then served on top a bed of greens. I think a salad like this calls for a creamy dressing, but I didn't want anything too heavy, so I tossed it in a bit of Ashley's greek yogurt Caesar dressing.
The cool thing about this dish is that it not only makes a great entrée style salad for a brunch or special lunch, but the fried artichokes alone make for the most satisfying appetizer. It was nearly impossible not to gobble them all up before plating up the salad. And especially paired with the greek yogurt style Caesar, they are truly to.die.for.
Hope your week is off to a much better start than mine!
Fried Artichoke Salad
Makes 3 entrée portions or 4 appetizer portions
1 can artichoke hearts, drained, patted dry, and cut in half
1/2 cup flour
1 egg, beaten
1/2 cup parmesan cheese
1/2 cup breadcrumbs
vegetable oil for frying
8 cups mesclun greens
salt and pepper to taste
2 wedges fresh lemon
Make the dressing: For ingredients and instructions, please check out Ashley's post!
Prepare the artichokes:  Set up your dredging station- one bowl with the beaten egg, one bowl with the flour seasoned with half a teaspoon salt and half a teaspoon pepper, and the last bowl with the breadcrumbs and cheese mixed together. Set a large frying pan to medium high heat and coat very generously with vegetable oil.  While the oil is heating, dredge the artichoke hearts, placing them in the flour, then egg, and then breadcrumb mixture.  Line a dish with a paper towel and set aside.  Place the artichokes in the pan and fry until golden brown on both sides. Once cooked, place them on a paper towel to drown. Season immediately with salt.
In a large bowl toss the greens with an ample amount of dressing.  Plate the greens on a large rectangular platter (or place into bowls).  Put the artichokes on top and finish with a squeeze of lemon and some shaved parmesan.