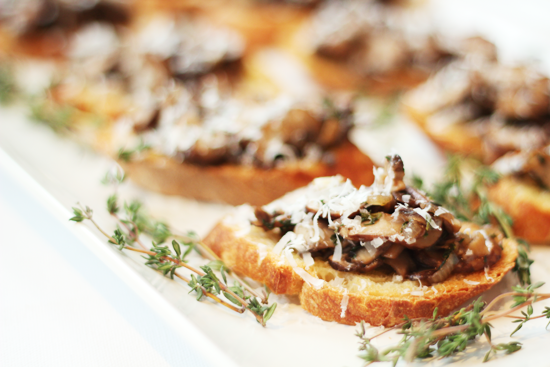 Happy Friday! Thank you for your sweet comments on yesterday's post, it was a fun one to write.
I wanted to close out the week with something delicious, and this recipe is quite fitting for a Friday, as crostini makes for a satisfying weekend appetizer or little nibble. When entertaining, my go to pre-dinner snack is always a couple of quality cheeses and a good baguette, paired with a mix of olives or cornichons, but every once and a while I feel the urge to mix it up a bit. This crostini is simple to make and hearty, without being overly heavy. I adore appetizers, but hate when they leave me feeling too full for the main course.  Perhaps that's just my own doing though, and I should really just exercise a little more self control!
In any event, I hope you have a wonderful weekend. My schedule is packed both days with something really fun and exciting, can't wait to to tell you all about it on Monday! xoxo
Warm Mushroom Crostini
Makes 1 dozen crostini
1/2 a baguette, thinly sliced on a diagonal
10 oz cremini mushrooms
1 shallot, minced
2 garlic cloves, minced
1 T fresh thyme, finely chopped
1/4 c white wine
olive oil
slightly heaping 1/4 tsp sea salt
1/4 tsp freshly ground pepper
1/2 c freshly grated parmesan
Preheat the oven to 400 degrees. Lay the sliced bread on a baking sheet and brush lightly with olive oil. Bake for 12-14 minutes until bread is golden brown and toasted (center of bread should still be slightly soft).
Set a medium sized saucepan to medium low heat. Coat pan with a bit of olive oil and sauté shallots for 7-10 minutes until soft and translucent. During the last minute of cooking, toss in the garlic and stir to combine. Next, add in the mushrooms and thyme, tossing to combine.  Raise heat to medium and cook mushrooms until they're wilted and all liquid has evaporated, about 7-10 minutes. Once liquid has evaporated add in white wine, salt and pepper, and cook until wine has reduced, 5-7 minutes.
Place toasted bread on a tray.  Divide mushroom mixture evenly among toasts, and top with grated parmesan. Serve immediately.