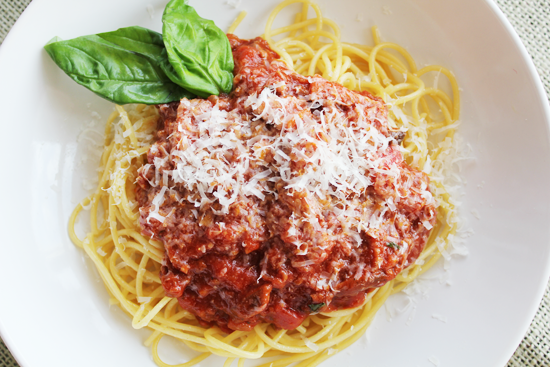 When we moved to New York, Brandon mentioned we should treat certain weekends like we were in Vietnam (where we had traveled this summer), meaning, we should try to get out and do things we'd be more likely to do if we were tourists.  This doesn't exactly mean a trip to the Statue of Liberty or hopping the ferry to Ellis Island.  He was more so suggesting we make a point to explore new neighborhoods, restaurants, and spots this city is famous for.  We were not the best at doing this in D.C. so I was in full agreement we should make a better effort in New York.
So far, I'm pretty impressed with how we've fared! This great fall weather likely helped a lot, but I'm happy to say we've explored something new in the city almost every weekend .  And it's been so fun! Even spots we visited that I've already been to many times before feel new again. This past Sunday we went to the Guggenheim, a museum I must have visited a half dozen times growing up, and we had the absolute best time. The exhibit we saw was incredible.  It put us both in such good spirits, which made for a perfect end to the week.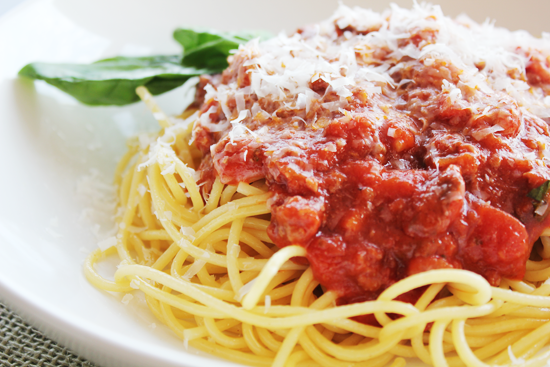 After the museum we came home and made Spaghetti Bolognese for dinner. They had beautiful mushrooms at the farmer's market on Saturday so I picked some up to add to the sauce. Bolognese can be such a heavy dish but I find upping the vegetables really helps balance out the richness of the meat. This recipe makes a lot of sauce so it's great for leftovers. Oh! And one more thing I have to share. I had a moment of brilliant thinking before we headed to the museum and decided to prep some ingredients. I chopped up the onions, garlic, carrot, and celery for the sauce. This made such a difference when we got home and started cooking. Having those ingredients ready to go made the dish come together so effortlessly. You could even prep those ingredients a day ahead and pull this together on a weeknight. I really need to do that more often!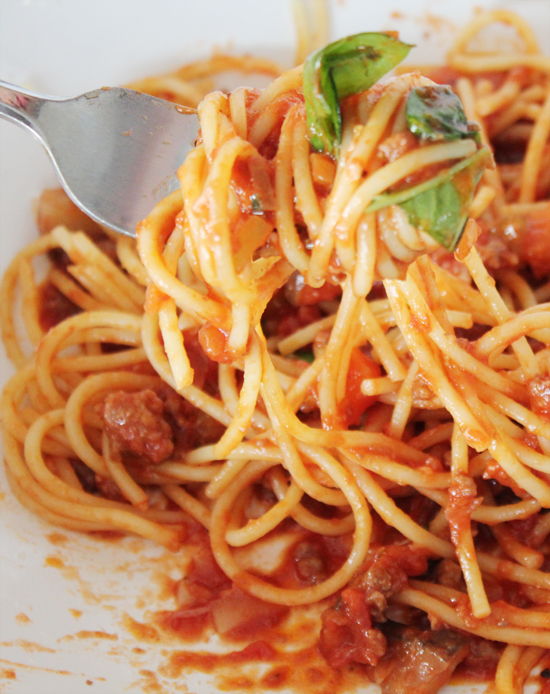 Beef and Mushroom Bolognese adapted from Giada De Laurentis
Serves 6
1/4 cup olive oil
1 medium onion, diced
4 large cloves garlic, minced
1 carrot, peeled and diced
1 celery stalk, diced
1/2 lb shiitake or cremini mushrooms, roughly chopped (wipe with a damp cloth to clean)
1 lb ground beef
1 28 oz can crushed tomatoes
1 14.5 oz can puréed tomatoes
 1 1/2 lbs spaghetti
1 cup chopped basil or parsley
1 tsp freshly ground black pepper
2 1/2 tsp salt
freshly grated parmesan for serving
In a large skillet heat the olive oil. When almost smoking, add the onion and garlic and sauté over medium heat until the onions become very soft, about 12 minutes. Add the celery and carrot and sauté for 10 minutes. Add the mushrooms and cook for an additional 5-7 minutes until softened. Raise heat to high and add the ground beef. Sauté, stirring frequently and breaking up any large lumps. Cook until meat is no longer pink, about 10 minutes. Add the tomatoes and tomato pureé, basil, salt and pepper, and cook over medium low heat until the sauce thickens- roughly 30 minutes.
While the sauce is cooking, set a large pot of salted water to boil. Once boiling drop your pasta and cook for 8-10 minutes until al dente.  Drain pasta and place in bowls.  Spoon sauce over top and finish with a generous sprinkle of grated parmesan. Sauce can be stored in fridge up to one week, or frozen and stored up to 2 months.