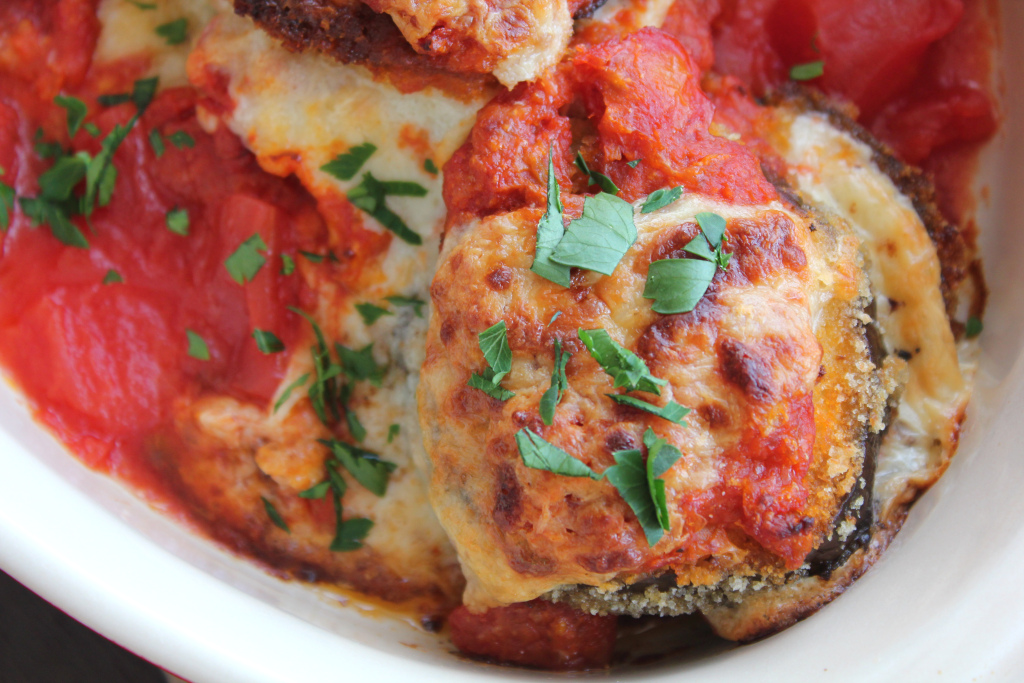 I have to say, I don't really love eggplant.  It's one of those vegetables I've stayed away from for years after a bad experience at a Chinese restaurant.  I think it had more to do with the texture, rather than the flavor, but either way there hasn't been an eggplant in my fridge in quite some time.  Then, last Sunday, I made dinner with a close friend- a friend who loves to cook just as much as I do.  It's been years since our last cooking date and I was quickly reminded of how inspiring it is to get out of my own kitchen and experience how other people cook.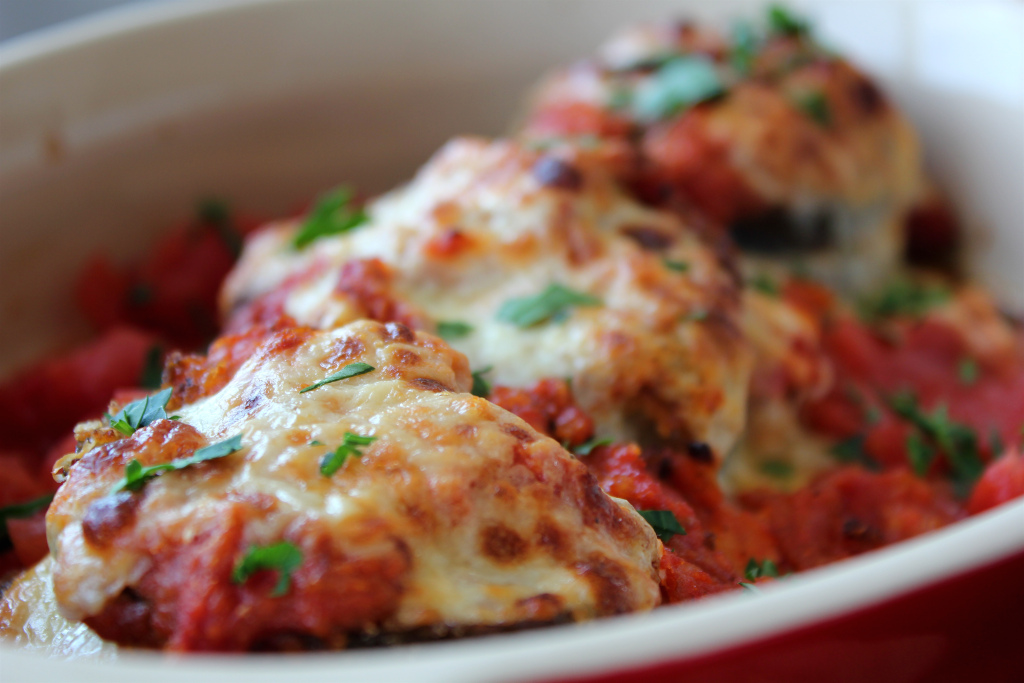 For our dinner we whipped together a mix of small dishes, one of which was her family's eggplant parmesan.  I suppose if you're going to reintroduce a vegetable into your diet, coating it in breadcrumbs and cheese is a safe way to go, but I was so blown away by this recipe- I knew I needed to try it in my own kitchen. So this past Friday, I did just that.  Though my creation is a bit heavier on the sauce, I'm confident the Heffernans would have been pleased!
Ps: This recipe is a bit long, but not complicated! So please, don't be deterred by the length.  Enjoy!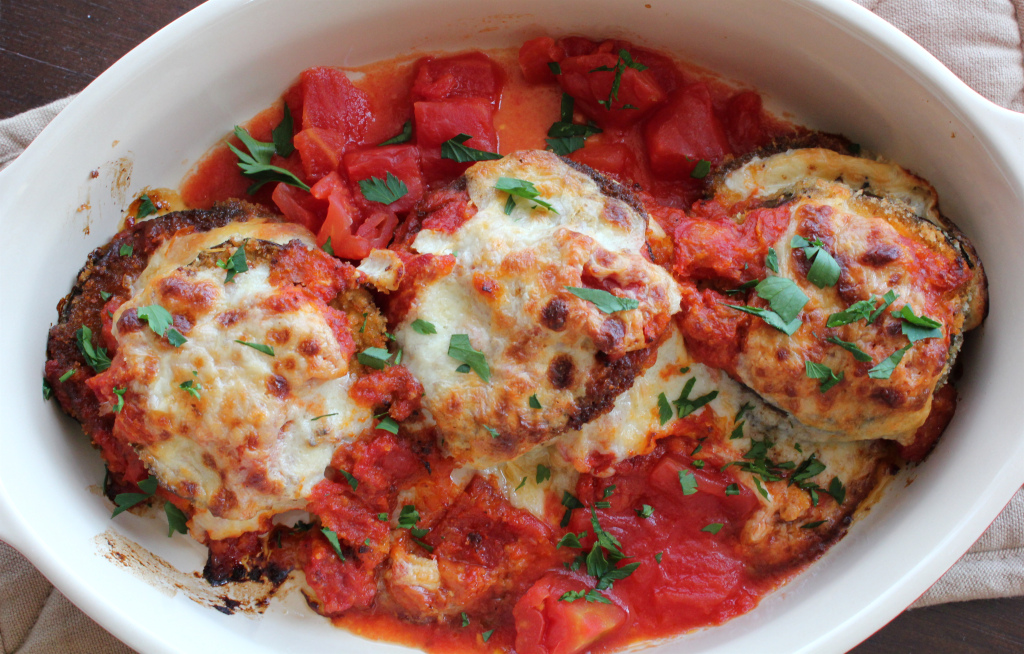 Eggplant Parmesan inspired by the Heffernan Family
Serves 2-3 people
3 small eggplants, sliced into 1/3 inch thick rounds
one 28 oz can crushed tomatoes
1 small onion, finely chopped
3 cloves garlic, minced
1 large ball fresh mozzarella, thinly sliced
1 c grated parmesan cheese
2 eggs
1 1/2 c dried bread crumbs
vegetable oil
s+p
pinch of sugar
parsley for topping
Make the sauce: Place a saucepan over medium low heat.  Coat the bottom of the pan generously with olive oil and throw in your garlic. Sauté for a minute or so until the garlic has softened, then add in the chopped onion.  Sauté the onion and garlic for 5 minutes, until the onion has softened slightly.  Pour in the crushed tomatoes, add a pinch of sugar, a large pinch of salt, and several grinds fresh black pepper.  Let sauce simmer while you prepare the eggplant. (Taste sauce for seasoning before using in dish).
Prepare the Eggplant: Place the rounds on a cutting board and sprinkle liberally with salt.  Let rest.  Meanwhile take two shallow bowls, beat the eggs in one bowl, and combine the breadcrumbs, 1/2 cup grated parm, a pinch salt, and several grinds black pepper in the second bowl. Set aside.
At this point, preheat your oven to 350 degrees.  Once eggplant has sat for 15 minutes, lightly rinse the salt off of each round and pat dry. Then, take each round and coat in egg and then breadcrumbs. Once each one is coated, take a large sauté pan and coat the bottom very liberally with vegetable oil. Set over medium heat, warming oil until it sizzles slightly if a drop of water hits the pan.  Fry the eggplant in batches, cooking rounds for 4-5 minutes on each side until golden brown.  Add more oil to the pan as you go through the batches so it doesn't dry out.
Assemble the dish:  Take a large baking dish, and place the largest rounds in two rows in the bottom of the dish.  For each eggplant parm "stack" you'll need two slices of eggplant, so depending on the number of rounds you have, assemble accordingly. On top of the first round place a spoonful of sauce, then a slice of mozzarella, then another piece of eggplant, another spoonful of sauce, and lastly, top with another slice of cheese. Repeat the same process for all the eggplant.  Place the remaining sauce around the eggplant stacks, and top with the remaining half cup of grated parm.
Bake for 30 minutes at 350 degrees, and then place under the broiler for the last 5 minutes of cooking. Top with chopped parsley. Let cool and serve immediately.  Can be stored in fridge for up to 4 days.