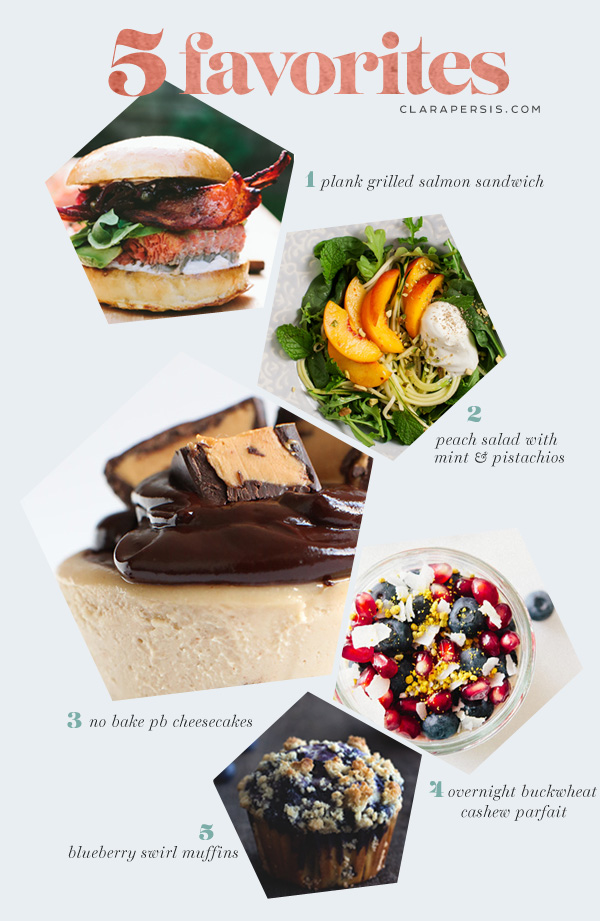 It's Monday. Friday is far away. Let's talk about some good food, shall we? Instead of rounding up my five favorite things for the month of August, I've rounded up five tantalizing recipes from my five favorite food bloggers as of late. In no particular order…
1. Not Without Salt  I would literally fly to Seattle to have Ashley make me dinner. Not creepy at all. I envision her warmly opening the door, handing me a crisp glass of white, and bringing me into her kitchen that would be filled with the most amazing smells. There'd be a really classy appetizer, like thinly sliced radishes and butter waiting on the table, and we'd chat and gab until dinner was ready.  Could we please eat these Plank Grilled Salmon sandwiches?
2. Love & Lemons Whenever I feel like the presence of vegetables in my life has been lacking and I need to jumpstart my inspiration, I head to Jeanine's site. Literally since viewing this peach salad with mint and pistachios, I cannot stop putting peaches and fresh herbs into every salad I make. I've yet to make her mint pistachio combo, but doesn't it sound incredible? I think it would also be really good all chopped up and served on top of grilled fish or lamb. Mmmm dreamy.
3. Minimalist Baker Holy food porn. I'm literally having DREAMS about Dana's No Bake Peanut Butter Cheesecakes. She describes them as sexy. I have to totally agree. They're also vegan, which for looking so decadent, is wildly impressive. Side note: I also really loved Dana's podcast with Jess Lively where she talks about her minimalist lifestyle beyond food. I sort of thought I was somewhat of a minimalist prior to hearing Dana speak. HA! So not the case! But it's still really interesting to learn more about it, and made me want to adopt some of her tips.
4. A House in the Hills Sarah's eating clean for the month of August. I am not. But I'm still following along on her gorgeous journey and selectively garnering inspiration, while consuming things like ice cream and burgers. One dish on my must make list- this Overnight Buckwheat and Cashew Parfait, topped with BEE POLLEN. First I have to find bee pollen. Can anyone tell me where to buy that?
5. Honestly YUM  The color of these blueberry muffins literally blows my mind. Aren't they stunning? Must must make these babies. The only thing they're missing (in my mind) is some sort of citrus. I love a little lemon zest in coffee cakes and muffins. I'm also just generally into the Honestly YUM site. Their cocktails are so creative and they have a recipe for Bacon Granola. Yep, you read right. That's also on the must make list.
Have a great week, friends! And if you're dragging a little this morning, I love this quote Grace posted last night. xx Clara