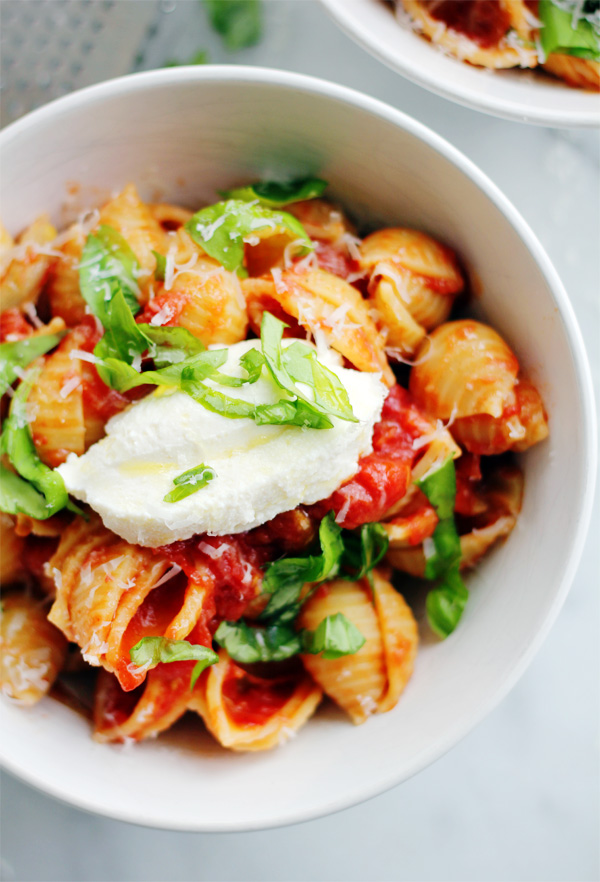 Since this winter literally will not quit (um hi it's MARCH), I figure I might as well do my best to embrace hearty comfort food for the time being. Case in point, this baby shells smothered in a butter roasted tomato sauce and topped with fresh riccotta. Although at this point I am literally daydreaming about spring and summer produce…. asparagus, tomatoes, berries… drool! I'm headed to L.A. for work this week and can't decide if I'm more excited about 75+ temps (permitted the rain subsides) or gorging myself on produce that goes beyond the category of root vegetable. And then hopefully when I get back New York temps could rise above 40° for a consistent amount of time?  Yes? K, thanks. That would be great.
Thank you all so much for your supportive comments on Friday's post. While it's been a rough few weeks, there seems to be a light at the end of the tunnel- and your thoughtful words are most definitely a part of that. Here's to a bright week.
Baby Shells with Spicy Butter Roasted Tomato Sauce and Fresh Ricotta  adapted from Bon Appétit
Serves 3-4 people
1 28-oz. can whole peeled tomatoes
8 garlic cloves, peeled, crushed
2 anchovy fillets packed in oil (or 1 tsp anchovy paste)
¼ cup (½ stick) salted butter, cut into small pieces
½ teaspoon crushed red pepper flakes plus more for serving
Kosher salt and freshly ground black pepper
12 oz. baby shells
Finely grated Parmesan (for serving)
fresh basil
fresh ricotta (the good stuff from your local cheese store!)
Preheat oven to 425°. Combine tomatoes (crushing them with your hands), garlic, anchovies, butter, and ½ tsp. red pepper flakes in a 13×9" baking dish; season with salt and black pepper. Roast, tossing halfway through, until garlic is very soft and mixture is jammy, 35–40 minutes. Using a potato masher or fork, mash to break up garlic and tomatoes.
Meanwhile, cook pasta in a large pot of boiling salted water, stirring occasionally, until al dente. Drain, reserving ½ cup pasta cooking liquid.
Return pasta to pot and add tomato sauce and pasta cooking liquid. Cook over medium-high heat, tossing until sauce coats pasta, about 3 minutes. Serve topped with Parmesan, a dollop of ricotta, and fresh basil.