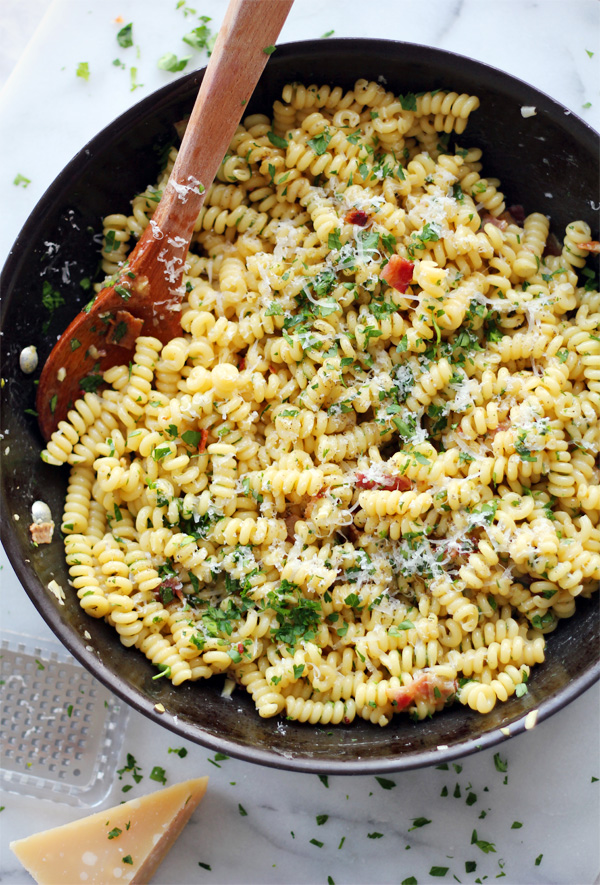 Carbonara is something my family has been eating and making since longer than I can remember. It started with my Dad. He would make it for my brother and I when we were young, and even though his version more so resembled scrambled eggs and bacon with spaghetti, I loved it. My mom had a version she made, which was much more indulgent since she used heavy cream (technically not a traditional Carbonara ingredient… but we didn't care!). I remember the recipe came from an old spiral bound cookbook that was literally falling apart. That heaping bowl of pasta was one of my favorite dinners. Finally, my friend Kate had a version she made all the time in college that contained sautéed onions and white wine. I loooved that version too.
At home, Carbonara is one of those dishes I can literally make in my sleep. But because of that, I always make the recipe by feel, and do so on a slow evening while sipping a glass of wine. But this weekend, I finally took the time to actually measure and write down all my steps. My version is a combo of so many different recipes, from Giada's to Tyler's to everyone in between. But it's the version I've come to love the most, so I'm thrilled to finally share this weeknight staple. Get all the details below, and here's to a great week!
Everyday Carbonara
Serves 4
1 lb spaghetti or short cut pasta (traditional Carbonara is made with spaghetti)
4 slices thick cut bacon (I recommend the Applegate or Niman Ranch brands)
1 1/2 tablespoons minced garlic
1 1/2 cups grated parmesan plus more for serving
3 eggs yolks plus one whole egg
1 cup fresh parsley, packed and chopped
3/4 tsp salt plus more for serving
1/2 tsp pepper plus more for serving
Note: Timing is everything in this recipe! I recommend reading the entire recipe first to make sure you have everything planned out accordingly.
Fill a large pasta pot with water and a heaping tablespoon of salt. Place burner to high heat and bring to a boil. Cook pasta until it's just al dente. Reserve 1/2 cup of cooking liquid before you drain the pasta.
Set a large, deep frying pan to medium low heat and add your bacon. The trick to cooking bacon well and not burning it is to do it "low and slow" as my mom says, so I generally start the bacon when I'm boiling the water so I have plenty of time. Cook until the bacon is crisp but not burned on each side (about 5-7 minutes on each side).
While your bacon is cooking and water is heating, prep your ingredients. Whisk together your eggs, then add in the cheese, salt, and and pepper and stir to combine. Prep your garlic and parsley.
Once the bacon is cooked, remove from pan, blot dry with paper towels, and roughly chop. Take the pan the bacon was cooking in and pour out most of the fast. You want to leave a bit- the pan should look glossy. Return the pan to the heat and add in your garlic. Sauté for about one minute until soft. Next add in your just drained pasta. Toss the pasta a bit to coat with the garlic and bacon fat, for about one minute (Note: You want to time this part well! The pasta should be just drained and still steaming hot when it's added to the bacon pan). Turn off the heat, pour the egg mixture over the pasta, and stir quickly. You want the egg to cook, but stay as a creamy sauce (not become scrambled eggs). Add a bit of your pasta cooking liquid at this point (a quarter cup at a time- you may only need a quarter cup or the full 1/2 cup), to make the sauce thick and creamy. Add in the parsley and stir well to combine, making sure to lift the sauce and bacon from the bottom of the pan. Taste for seasoning. Add in more salt and pepper if necessary. Spoon pasta into bowls, top with more cheese, and serve immediately.