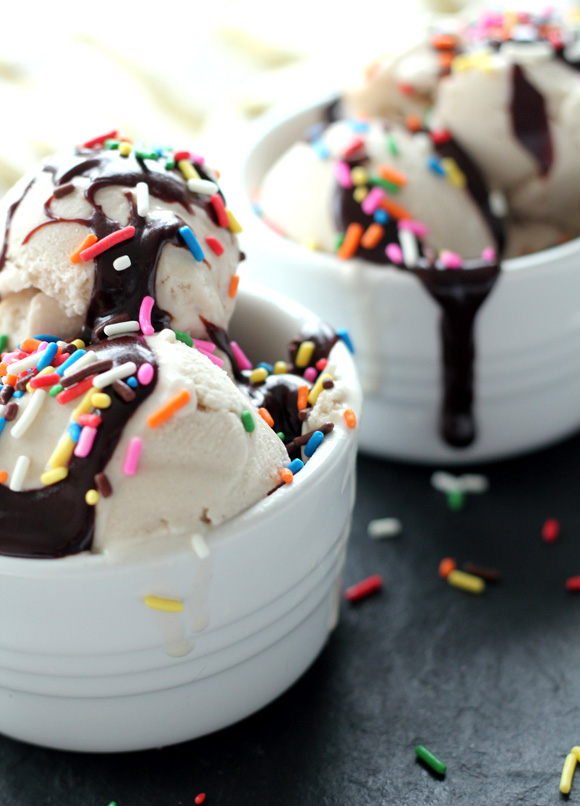 I've been on a major coconut product kick, as made clear by my instagram feed. I now make all my granola with coconut oil, we've started throwing a dollop of coconut milk into our smoothies instead of using yogurt, and this weekend marked my first foray into coconut milk ice cream. This seemed like a no brainer to me. I mean, is it just me or it is really hard to believe coconut milk is dairy free when you first open a can? It's so rich and thick! Of course you'd make ice cream with it. This recipe is incredibly simple and yields great results. The coconut milk churned just like regular ice cream, and once frozen became the farthest thing from your typical vegan dessert. A key thing to note is that the ice cream doesn't have a strong coconut flavor, like you would think. So if you're not a coconut lover, I'm gonna venture to say you'll still like it- especially if you add the coffee. This hot fudge sauce is not vegan, but you could easily forego it and mess around with other chocolate based ice cream mix ins. But if you aren't vegan, you better be making this hot fudge sauce.
Here's to a great week and the first CC ice cream recipe of the season! We've got so many good posts across the next few days and an especially exciting announcement on Thursday. Let's do this!
Coffee Coconut Milk Ice Cream  from The Minimalist Baker
Serves 6
2 15 oz cans full fat coconut milk

3/4 cup regular sugar
3/4 strong brewed coffee
1 1/2 tsp vanilla extract
Combine coconut milk, coffee and sugar in a small saucepan over medium heat and whisk until well combined – about 5 minutes.Remove from heat and whisk in vanilla. Transfer to a bowl to let cool completely in the fridge – at least 6 hours, overnight being preferable.Transfer to ice cream maker and prepare according to manufacturer instructions (I let mine churn for about 20 minutes, at which point it was done). Pour into tupperware container, smooth out top, and press plastic wrap directly to the ice cream. Cover with tupperware lid. Let harden for several hours in freezer. Let stand for 15 minutes at room temperature before serving. Top with hot fudge, sprinkles, etc!
Hot Fudge Sauce adapted slightly from Smitten Kitchen
Yields 2 1/2 cups
4 ounces unsweetened chocolate
3 tablespoons butter, unsalted
2/3 cup water
1/3 cup sugar
6 tablespoons corn syrup
Pinch of salt
1 tsp vanilla extract
2 tablespoons strong brewed coffee (optional)
Melt the chocolate and butter very slowly in a double boiler or in the microwave, stirring frequently until combined. Meanwhile, heat the water to boiling in the small, heavy saucepan. When the butter and chocolate have melted, stir the mixture into the boiling water. Add the sugar, corn syrup and salt and mix until smooth. Turn the heat up and stir until mixture starts to boil; adjust heat so that sauce is just maintained at the boiling point, stirring occasionally. Allow sauce to boil for nine minutes.
Remove from heat and cool for 15 minutes. Stir in the vanilla and coffee and serve warm over ice cream.