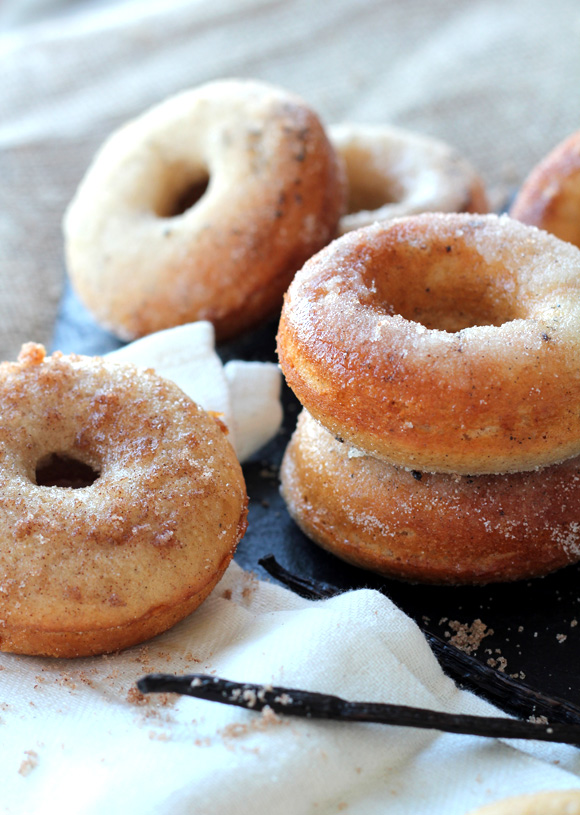 Yesterday I managed to go to Ikea and make it out in less than two hours. I'm going to see that as a huge win, especially since it included visits to the kitchen, framing, rug, and outdoor areas. I went to stock up a few items that I've been meaning to get forever (like this milk frother- obvi), but the most exciting purchase was our patio furniture! I got us a portion of this sofa, a pinky red lounge chair, and two other outdoor folding chairs for guests. Now all we need is a little outdoor coffee table and we'll be completely ready to entertain al fresco. Truthfully though, I'm just as excited to hang out there throughout the week, whether we're just eating a simple weeknight dinner or enjoying our morning coffee on the weekends. These donuts would go perfectly with the latter. So irresistible and light, my only hesitation is that one donut and coffee would likely turn into four donuts and coffee. My advice? Invite friends when you make these guys!
Vanilla Cinnamon Sugar & Buttermilk Baked Donuts slightly adapted from Ina Garten's Foolproof
Makes approximately 12 donuts
2 cups all purpose flour

1 1/2 cups sugar
2 teaspoons baking powder
1 teaspoon cinnamon
1/2 teaspoon nutmeg
1/2 teaspoon kosher salt
1 large egg, beaten
1 1/4 cups buttermilk (or can use whole milk)
2 tablespoons unsalted butter, melted
2 teaspoons pure vanilla extract
For the topping
4 tablespoons unsalted butter, melted

1/2 cup sugar
1/2 teaspoon cinnamon
seeds scraped from one vanilla bean
Preheat your oven to 350°. Spray the donut pan with non cooking spray (or rub with canola oil, which is what I did).
Sift together the dry ingredients for the donut. In a separate bowl whisk together the wet ingredients. Pour the wet into the dry and mix until just combined. Fill the wells of the donut pan 3/4 of the way with batter (I poured my batter into a large ziploc bag, snipped a corner, and used that method to get the batter in the pan). Bake for 17 minutes until golden brown and a tooth pick or cake tester comes out clean. Let rest in pan for another 5 minutes and gingerly loosen them from the pan.
Set up a bowl for your melted butter, and another for you sugar mixture. For the sugar mixture, combine the sugar and cinnamon first. Then work in the vanilla seeds with the back of a fork. Dip the donut first in the butter on both sides, and then in the cinnamon sugar.