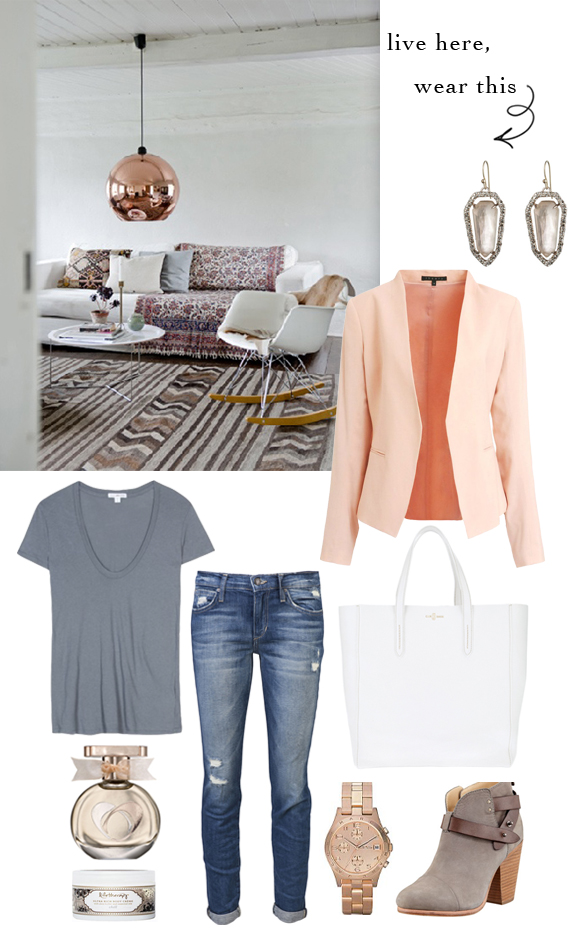 Wear: crystal earrings, peach blazer (steal), dark gray tee, floral perfume, aromatherapy lotion, vintage jeans, white leather tote (steal), rose gold watch (steal), gray ankle boots (steal)
{Hi there! Clara and I have been hard at work on this year's editorial calendar, and we have some amazing new posts that we'll be introducing to you in the coming weeks. Don't worry- we won't be eliminating your old favorites, but instead adding to them. Tuesdays around here will bring inspiration in all forms- from wardrobe and styling, to dining and entertaining. Our readers mean everything to us, so feel free to let us know what you think!}
I think one of the reasons why I find interiors incredibly inspiring is because of the endless combinations of fabrics, colors and patterns that determine the end result. Putting together a room really isn't all that different from putting together an outfit, don't you think? That's why I love the idea of pulling the basic elements out of a beautiful space and channeling them into a foolproof outfit. It's reassuring to know that if the elements work on a couch, they'll most likely work on me, too.
The above room features my very favorite mix- neutrals and metallics. It creates a look that is easily dressed down or dressed up, and is just unexpected enough. And it's safe to say, a peach blazer has officially  moved to the top of my essential wardrobe items for spring list!
Just a note: this feature is definitely not meant to encourage you to go buy a bunch of expensive things. Rather, I hope you'll use it more as a guide to inspire you to look to interior elements when planning future outfits. With that in mind, I'll definitely still try my best to include links to affordable options (see the 'steals' above)!