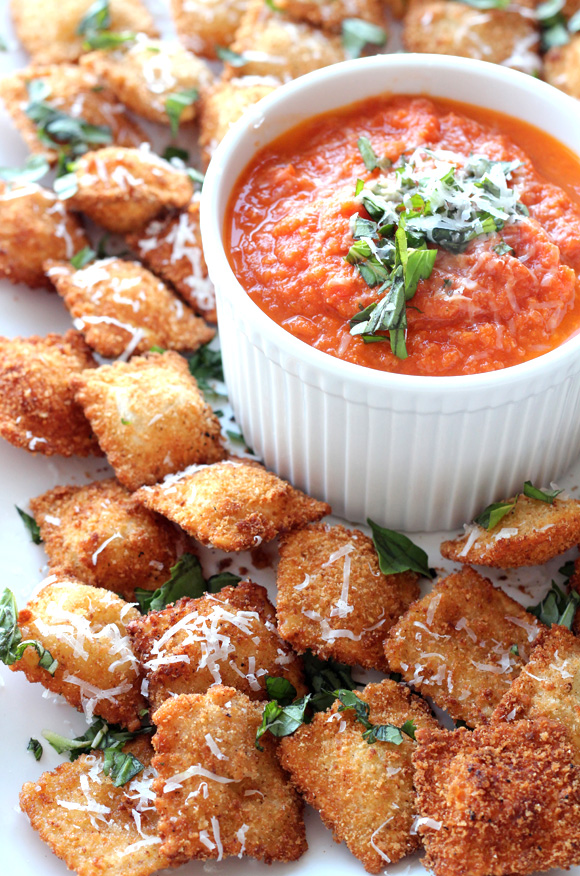 I've been doing a little spring cleaning around CC, namely in the form of reorganizing our Recipe Index, and it became blatantly clear that the Appetizer category was looking a little barren. So this weekend I set out to fix that and went on the hunt for a fun first bite that would bring a little more life to the current list of recipes. The instant I spotted this recipe in Giada's Everyday Pasta, I knew my search was complete. No deep frier required, all you need to make these crispy pockets of cheesy goodness is a deep frying pan or dutch oven and about 30 minutes or so of kitchen time. Oh, and if that weren't enough- I'm kind of obsessed with this Marinara sauce. I actually came up with it a few weeks ago when making homemade pizza and quickly realized the combo of technique and ingredients makes it perfect for pizza, as a dipping sauce, or served over pasta. So definitely don't overlook that part of the recipe!
I'm totally serving these guys for my next dinner party. How fun would it be to have a piping hot platter for guests to indulge in as they arrive? A total win!
Fried Ravioli adapted from Giada De Laurentiis' Everyday Italian
1 package store bought ravioli (about 24)

1 cup buttermilk
2 cups Italian style bread crumbs
1 tsp dried Oregano
1/2 tsp salt
1/2 tsp freshly ground pepper
grated Parmesan or Pecorino Romano
vegetable oil and olive oil for frying
fresh basil for garnish
For the Cheesy Marinara Sauce:
1 14 oz can diced tomatoes

1/2 onion, minced
2 large cloves garlic, minced
1/2 tsp salt
1/4 tsp red pepper flake
2 tablespoons extra virgin olive oil
1/2 cup grated pecorino romano cheese
Preheat the oil: Fill dutch oven or deep frying pan with two inches of oil- 3/4 vegetable oil, 1/4 olive oil. Preheat until a thermometer reads 325°.
Prep the sauce: In a medium sized saucepan, sautée the onion in olive oil over medium low heat for 8-10 minutes, until very soft. Stir in garlic and cook for about 1 minute, until fragrant. Add in the tomatoes, salt, and red pepper flake and cook over medium low heat, stirring occasionally, for 10 minutes.
While the oil heats and sauce cooks, prep the ravioli. Place the buttermilk in a shallow bowl. Place the bread crumbs, oregano, salt, and pepper in another bowl. Line a baking sheet with parchment paper for the ravioli. Dip first in the buttermilk, shaking when lifting out of the bowl, then dredge in the bread crumbs. Place on the baking sheet while you coat the remaining ravioli. Set aside.
Finish the sauce: Remove from the heat. Using an immersion blender, blend the sauce directly in the pot until mostly smooth. Fold in the  grated cheese.
When the oil is hot, fry the ravioli in batches, turning until golden brown- about 3 minutes. Using a slotted spoon, transfer the ravioli to paper towels to drain. Sprinkle with extra cheese and shredded basil and serve with warmed sauce.