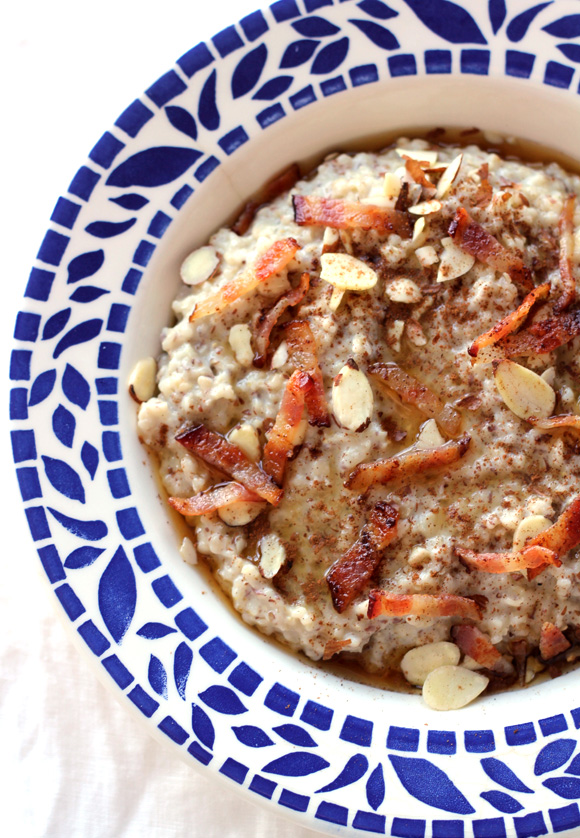 I always find the best recipes come out of nowhere, when I'm making something I never even intended to put on the blog. In fact, I had big plans to post a recipe for a Tuscan white bean and kale soup today but, truthfully, the photos came out horribly! I'm feeling the need to re-work my photo styling/ figure out a better way to deal with the winter lighting. I love the warmth of the photos from this sour cream coffee cake, but that was taken in my mom's kitchen- so yeah, need to work on recreating that.
But I digress….let's talk about oatmeal! Before you go running to the hills because I put bacon in this oatmeal and you're trying to eat well in the new year- hear me out. There is only one slice per serving, and I used organic nitrate free bacon so we're not talking about the worst thing for you. Add in some slivered almonds and flaxseed and you've got a hearty but not overly indulgent breakfast to fuel you through the morning. I had planned to add sautéed apples but didn't realize I was completely out, so feel free to add that in to give it some fruit content. But even without, this breakfast is definitely one of those reason to get out of bed in the morning meals. And I definitely need that when it's a balmy 30° outside. Oh January…
More killer oatmeal! Apple Pie Oatmeal, Bruléed Pumpkin Oatmeal, Creamy Blueberry Steelcut Oats
Maple Bacon Oatmeal
Serves 3
1 cup scottish oats (could also use rolled or steel cut)
2 cups water
1 cup milk
1/4 tsp salt
3 slices thick cut organic bacon
2 T flax seed
3 T slivered almonds
maple syrup and cinnamon for serving
Begin frying the bacon over medium low heat, cooking for about 5 minutes on each side until the bacon is nice and crisp (the key to cooking bacon well and not burning it, is to do it low and slow).
Cook the oatmeal according to the package instructions, but for every cup use two cups water and one cup milk. Once the oatmeal is cooked whisk in the salt and flax seed.
Once the bacon is finished cooking pat dry and slice into small pieces. Divide the oatmeal among three bowls. Top each with one slice chopped bacon, one tablespoon slivered almonds, and a bit of maple syrup and cinnamon. Serve immediately.